World's second largest economy continues to see slowing growth. Chinese GDP growth at six year low, but central bank unlikely to cut rates says economist. Weak European construction output. ECB likely to leave QE unchanged at next meeting…
This article titled "Markets mixed despite better than expected Chinese GDP – business live" was written by Nick Fletcher, for theguardian.com on Monday 19th October 2015 12.20 UTC
Here's a full report on Oprah Winfrey's deal with Weight Watchers:
Morgan Stanley earnings drop more than 42%
More news from the US, and Wall Street bank Morgan Stanley has just reported a 42.4% fall in third quarter earnings to $939m.
It was hit by turbulence in bond, currency and commodity markets following the concerns about the Chinese economy.
Oprah Winfrey takes stake in Weight Watchers
Over in the US, Oprah Winfrey has linked up with Weight Watchers International, buying a 10% stake in the business – with an option for another 5% – and is joining the board.
Winfrey said: "I believe in the program so much I decided to invest in the company and partner in its evolution."
Updated
China could overtake Europe for trade in 20 years – survey
As Chinese president Xi Jinping begins his state visit to the UK, British people expect China to overtake Europe as our most valuable trading partner in 20 years. A poll by YouGov also shows Brits are enthusiastic about closer economic co-operation with the Chinese.
Of those surveyed, 40% said our most valuable trading partner was Europe, with 23% choosing China. But in the next two decades this is expected to change, with 29% predicting China will be our top partner and 22% forecasting it will still be Europe.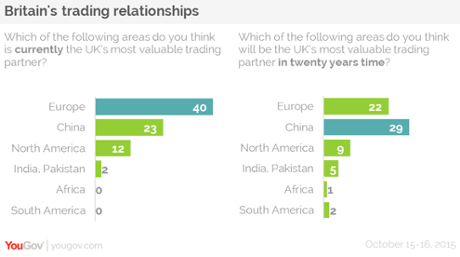 Nearly half – 43% – said the UK should be seeking closer trading links with China, with 31% saying it should continue the current level of economic co-operation and only 8% saying it should weaken ties.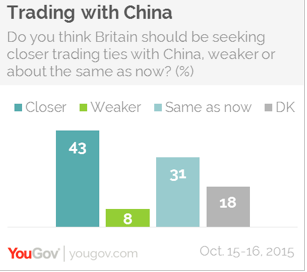 The majority – 54% – believed China would to continue into the next two decades with either much stronger economic growth than now (22%) or slightly stronger growth than now (32%). Only 14% predicted weaker growth. In addition, 37% expected China's growth to lift the UK's, while 26% said it wouldcome at the expense of western economies and 10% said it would not make any difference.
But YouGov added:
The British public seems to have a pragmatic approach to economic relations with China, but there is not much evidence of great affection for the country. Of the 12 biggest economies by GDP excluding the USA and those in Europe, China comes in at 8th in terms of net positive impressions (29% positive, 55% negative).
Ireland moves to reduce need for one and two cent coins
Ireland has moved to cut back on one and two cent coins, with plans to launch a nationwide scheme to allow retailers to round bills to the nearest five cents – with the consent of shoppers. PA reports:
Since the euro was introduced in 2001 Ireland has spent €37m issuing one and two cent coins – minting the coppers at three times the rate of the rest of the eurozone.

But the initiative to reduce the need for coppers is voluntary and consumers will retain the right to pay the exact bill and request their exact change.

The Central Bank insisted rounding would only apply to cash transactions and not to credit card, electronic or cheque payments and it would also only be used on the final cash total of a bill and not to individual goods.

As examples it said final bills ending in one and two cents or six and seven cents would be rounded down to the nearest five and those ending in three and four cents or eight and nine cents would be rounded up.

Other rules on the rounding scheme include that one and two cent coins remain legal tender.

The nationwide initiative starts on October 28.

It follows a successful trial in Wexford in 2013, which showed that 85% of consumers and 100% of retailers in Wexford who expressed an opinion wanted rounding rolled out nationally.
Back to China, and the weak GDP figures show that the stimulus measures introduced by the country's central bank have had a limited effect, said Professor Kamel Mellahi at Warwick Business School. He said:
If there is one thing to take away from the third quarter figures it is the limited short-term impact of financial and economic stimulus packages on the Chinese economy. The Chinese Government has introduced a number of measures to stimulate economic growth, but so far the needle hasn't moved much.

Right now it's very important the Chinese Government is focused on the long-term economic fundamentals and resists the temptation to take unnecessary actions simply to meet short-term economic growth targets.

One cannot, and should not, read too much into the third quarter growth figures. A growth of 6.9% is slightly below official government expectations but they are also marginally better than the 6.8% that most economists have predicted. Because it's the weakest growth since 2009, the figures are very symbolic but I don't think they tell us something substantially new about the state of the Chinese economy.
The 0.2% fall in eurozone construction in August compared to July was due to civil enginering declining by 0.3% and building construction by 0.2%, according to statistics office Eurostat.
In the wider European Union, construction output fell by 1.2% month on month.
The year on year decline in the euro area was 6% and in the EU as a whole 5%.
The full report is here: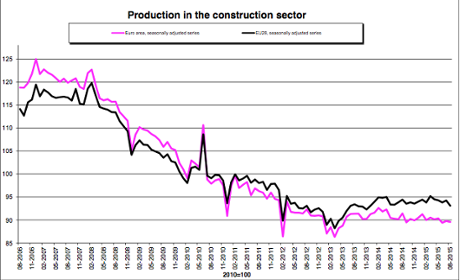 Weaker European construction output
Eurozone construction output came in weaker in August, new figures have just revealed:
Updated
Chinese GDP does not tell the whole story
More on the Chinese figures and their accuracy or otherwise. Real growth could be closer to 3% to 4% according to Russ Mould, investment director at broker AJ Bell. He said:
Chinese headline GDP growth looks healthy at 6.9% but underlying metrics suggest the real growth rate could be nearer 3% – 4%. If you look at growth in rail cargo traffic, electricity consumption and demand for loans, three metrics favoured by Prime Minister Li, the picture is not so healthy.

Credit growth still looks promising but freight shipments and electricity demand growth look to be sagging, so the so-called Li Keqiang index does raise a few questions.

Today's GDP figures are encouraging but investors with exposure to China should still expect some bumps and lumps along the way.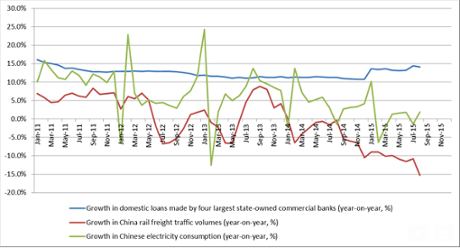 One of the disadvantages of being a stock market index laden with commodity companies is that the sector often has a disproportionate influence on events.
So it is today. With the weak Chinese data mining companies have come under pressure on concerns about slowing demand from the world's second largest economy. With the likes of Anglo American and Glencore down between 2% and 4%, this means the FTSE 100 has slipped back into negative territory, while other European markets are still moving higher.
Chris Beauchamp, senior market analyst at IG, said:
Overall growth in China in the third quarter was a respectable 6.9%, while strength in consumer spending will allay some fears about a slowdown. However, the figures will do nothing to dispel the idea that this particular growth bonanza has come to an end.

Big name mining stocks are in the red again this morning, with the sector at its lowest level in nearly two weeks. It looks increasingly like the bounce of early October was a false dawn, and barring some kind of sustained revival in risk appetite, perhaps via fresh monetary stimulus, the sector is heading lower once again.

ECB expected to leave QE unchanged this week
One of the main economic events this week is the latest meeting of the European Cental Bank, due to take place in Malta.
Despite the weakness of the global economy and continued low inflation, the bank is widely expected to keep its quantitive easing programme unchanged but suggest it is ready to act further if necessary. Many economists believe an expansion of the programme – which involves €60bn of asset purchases a month and is due to run until at least September 2016 – could be unveiled in December.
ECB board member Ewald Nowotny said it was too early to discuss changing the programme in one of a couple of interviews over the weekend and today. He said (quote from Reuters):
In my view it's too early to talk about (adjusting the asset purchases) because we still have almost a year of the programme ahead of us.
Economists at RBC Capital Markets said:
[Nowotny] remarked that Fed policy was not a "decisive aspect" in ECB decision-making, and that one should also not overestimate the impact of a slowdown in China. His more hawkish tone contrasts with the dovish tenor to his remarks from last week, where he acknowledged the clear weakness in domestic inflationary trends.
Nowotny said in a separate interview that the ECB has to show it is in control of inflation but governments may need to loosen fiscal policies to boost growth. He said it was too early to determine long term inflation trends, with low oil and commodity prices at the moment having a strong influence.
One of the shares pushing the German market higher is Deutsche Bank.
It has jumped more than 3% after unveiling plans over the weekend to split its investment bank in two, and removing a number of top executives as part of an overhaul by chief executive John Cryan. Earlier this month the bank announced a record loss of €6bn in the third quarter.
The full story is here:
Updated
European markets are now making a better fist of it after an uncertain start, as traders take a more positive view of the Chinese data (it was disappointing but not as bad as expected).
The FTSE 100 is up 0.2%, Germany's Dax has added 0.9% and France's Cac is up 0.8%.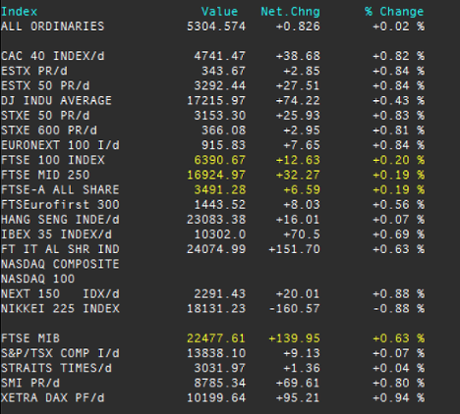 Greek creditors to examine reforms this week
Over in Greece, and the country's creditors will be reviewing its finances and the progress of reforms to release the next tranche of the €2bn rescue package. The move follows the successful passing of measures through parliament early on Saturday, despite protests against the package.
Greek newspaper Kathimerini reports:
Representatives of Greece's lenders – the European Commission, the European Central Bank, the European Stability Mechanism and the International Monetary Fund – are expected to return to Athens on Tuesday to start a review that, Greece hopes, will end successfully, paving the way for the launch of talks on debt relief.

The auditors are to scour Greece's finances too, following the presentation of the draft budget. Finance Minister Euclid Tsakalotos is expected to request flexibility, arguing that the recession estimates in the draft budget – 2.3% of gross domestic product this year and 1.3% next year – are overly pessimistic.

His aim is to eliminate some of the more contentious austerity measures that Greece has suspended, such as plans for a 23% value added tax on private schools and higher taxes on rental income.

As regards pension reform, another controversial issue, the government is keen to convince creditors to allow the inclusion of certain prior actions in a broader overhaul of the pension system, to come later.

As regards the €2bn loan tranche, the Euro Working Group is to convene on Wednesday and may recommend the immediate release of the money or may ask Greece to legislate more actions from the first list of prior actions.
The full report is here.
Despite the weak Chinese numbers, Tim Condon at ING Bank believes the Chinese central bank is unlikely to cut interest rates any further. He said:
The third quarter GDP data on its own implies a revision in our full-year forecast to 6.9% from 6.8%. However, our previous forecast was based on an acceleration in fourth quarter growth from reduced financial market turbulence and the impact of the stimulus implemented in response to the turbulence. We think the argument still applies and we are revising our full-year forecast to 7.0% (Bloomberg consensus 6.8%).

We see the September economic data, including the money and credit data released last week, as enabling the PBOC to remain on hold. We are revising our forecast of one 25 basis point policy interest cut in the current quarter to no more cuts.

We retain our forecast of one more cut in the reserve ratio requirement [the amount of cash that lenders must hold as reserves] in the current quarter to sterilize the impact of hot money outflows on interbank liquidity.
Shire falls on drug disappointment
One of the biggest UK fallers so far is pharmaceutical group Shire.
Its shares are down 1.8% after the US Food and Drug Administration said late on Friday that it would not approve the company's new dry eye drug, lifitegrast, based on current data. Chief executive Flemming Ornskov said he was disappointed but still hoped to launch the treatment in 2016. If results from a new phase 3 trial due by the end of the year are positive, Shire planned to refile a submission to the FDA in the first quarter of 2016. Ornskov said:
We are committed to working with FDA to expeditiously provide the evidence required to deliver a new prescription treatment option for the 29 million adults in the US living with the symptoms of this chronic and progressive disease. This is an area of unmet medical need for which there has been no new FDA-approved treatment in over a decade.
European markets make a mixed start
The weak Chinese GDP data has seen European shares get off to an uncertain start for the week.
The FTSE 100 is up 0.15% but Germany's Dax, France's Cac and Spain's Ibex have dipped 0.2%.
In China itself, the Shanghai composite has ended down 0.1% at 3386.7 points.
Oil prices have edged lower on renewed concerns about a lack of demand amid a supply glut, with Brent crude down 0.48% at $50.22 a barrel.
ITV buys television assets of Northern Irish broadcaster UTV
On the corporate front, ITV has agreed to pay £100m for the television business of Northern Irish broadcaster UTV in a long expected deal.
It means the long-gestating consolitation of the independent television network is getting into its final stages, with 13 of the 15 licences now in the hands of ITV. Analysts at Liberum:
We see the deal as a strategic plus, especially if ITV can charge retransmission revenues for the main channel where we expect more newsflow before Christmas. We reiterate ITV as our top pick in media sector.
More suggestions the official Chinese GDP figure may be an overestimation:
The Chinese data comes as the country's president, Xi Jinping, begins his first official state visit to London.
There are likely to be deals signed and co-operation agreements made, but the visit is controversial. It is likely to be marked by protests against human rights abuses, and concerns that the UK may be jeopardising national security by allowing Chinese state companies to invest in British nuclear power plants.
And it comes amid increased wariness towards China by the US. More here:
In Asia the Shanghai Composite is currently down 0.48%, while the Nikkei is 0.88% lower and the Hang Seng is down 0.54%.
European markets are expected to make an uncertain start after the mixed messages from the Chinese data. Here are the opening forecasts from IG Index:
Chinese economic growth at a six year low
Good morning and welcome to our our rolling coverage of the world economy, the financial markets, the eurozone and the business world.
China is in the spotlight once more, with news of a slowdown in economic growth in the third quarter. The world's second largest economy grew by 6.9%, compared to 7% in the previous quarter, and the lowest rate since the 6.2% recorded in 2009 during the global recession.
The figure was slightly better than the 6.7% expected by economists but is still likely to prompt concerns about the outlook. The government has cut interest rates five times since November, and further stimulus measures are expected in the wake of a continued slowdown.
Our full report is here:
Michael Hewson, chief market analyst at CMC Markets, said:
Last week's China trade balance numbers showed that while exports improved slightly, the sharp drop in imports suggested that internal demand remains constrained by the weakness in commodity prices, as well as lower domestic consumption, raising concerns that the Chinese government could well find it difficult to hit its 7% GDP target for this year.

This morning's Chinese Q3 GDP was expected to reinforce these concerns, but came in rather conveniently slightly better than markets had been expecting at 6.9%, and above some of the more pessimistic expectations of 6.7%.

While most people accept that China's GDP numbers should only be taking at face value, due to concerns that it is artificially inflated, this number does seem surprisingly good given how weak some of the more recent individual data components have been.

This is borne out by a much bigger than expected drop in the September industrial production numbers, which came in at 5.7% and well below expectations of 6%, and well down from 6.1% in August, while Chinese retail sales saw an increase of 10.9%, only slightly higher than August's 10.8%. Fixed asset investment also disappointed, coming in at 10.3%, down from 10.9% in August.
Economist Danny Gabay of Fathom Consulting echoed the scepticism about the Chinese figures. He told the Today programme: "The figures are produced remarkably quickly and rarely revised." And he believes the real figure is closer to 3%.
Otherwise it appears a relatively quiet day so far, but we'll be keeping an eye on all the latest developments.
guardian.co.uk © Guardian News & Media Limited 2010
Published via the Guardian News Feed plugin for WordPress.