The US economy created 271,000 new jobs in October, almost 100,000 more than expected, while the unemployment rate remained unchanged at 5%. US dollar rallies in the aftermath of the report as December rate hike looks like a done deal…
This article titled "US jobs data smash forecasts and send dollar soaring – as it happened" was written by Julia Kollewe, for theguardian.com on Friday 6th November 2015 14.45 UTC
Here is our full story on the US jobs data, which smashed expectations.
On that note, we are closing up for the day. Have a great weekend. We will be back on Monday.
Stock markets turn positive
European stock markets have turned positive, led by Germany's Dax which is up 1.3%, while France's CAC is 0.45% ahead. The FTSE 100 index in London has gained more than 23 points to 6389.25, a 0.4% rise.
On Wall Street, stocks opened slightly lower, but the Dow is now in positive territory, up 0.15% while the Nasdaq is flat.
Updated
David Lamb, head of dealing at forex specialists FEXCO, says:
The prospect of the Fed raising interest rates in December is now on a par with turkey on Thanksgiving – all but certain.

Such clarity, and the bullish euphoria of such an expectation-smashing number, have propelled the Dollar to multi-month highs.

With concern lingering about the strength of the global economy, such titanic performance from the US economy has turned the Greenback into a beacon of hope for investors. With a December rate hike now seemingly a done deal, huge inflows into the dollar should drive it even higher in the coming weeks."
The 271,000 increase in jobs in October was the biggest since last December.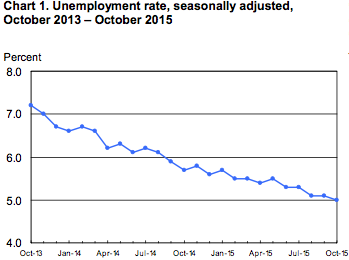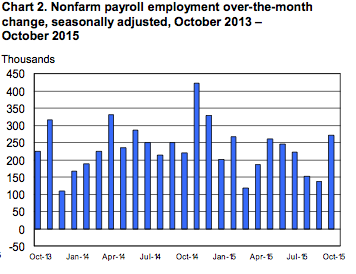 US stock futures point to a slightly lower open on Wall street after the non-farm payrolls data smashed expectations and made a December rate hike from the Fed highly likely.
Fed chair Janet Yellen hinted on Wednesday that the Fed could move at next month's meeting if data showed that the economy was strong enough to cope with higher interest rates.
The dollar rallied on the jobs report, hitting a session high against the yen and rising 1.5% against the euro and 1% against sterling, to $1.5038. The pound is already under pressure because yesterday's inflation report from the Bank of England was more dovish than expected.
Updated
Paul Ashworth, chief US economist at Capital Economics, agrees.
The much bigger than expected 271,000 surge in non-farm payrolls in October confirms that the weakness in August and September was just a temporary blip and, given the circumstances, a December interest rate hike would now appear to be the most likely outcome.

The rest of the employment report was encouraging too, with the unemployment rate falling to 5.0%, from 5.1%, the broader U6 measure of unemployment dropping to 9.8%, from 10.0% and the share of involuntary part-time workers dropping to a seven-year low.

Unquestionably, that will be enough to convince Fed Chair Janet Yellen and Vice Chair Stanley Fischer to vote for a rate hike at the next FOMC meeting in mid-December. Other voting members, particularly Fed Governor Lael Brainard, remain skeptical that the improvement in thelabour market will necessarily lead to higher wage growth and price inflation. But October's report also provides some evidence that the demise of the Phillips curve might have been exaggerated. Average hourly earnings increased by 0.4% m/m in October and the annual growth rate climbed to 2.5%, from 2.3%. 2.5% is still relatively modest, but it is nonetheless a six-year high.

Regardless of the exact timing of the first rate hike, we still believe that the big story next year will be an unexpectedly strong pick-up in wage growth and price inflation, which will force the Fed into a much more aggressive policy tightening cycle than the Fed's projections currently suggest."
Updated
"We would need to see a catastrophically bad November labour report for the Fed to sit on their hands again in December. We do not anticipate that" says ING economist Rob Carnell says
Following a disappointing run of labour reports, the October figure substantially surpassed the consensus view in nearly all respects.

This 5.0% unemployment rate is well within the Fed's range for full employment, and this was, for once, nicely reflected in the wages component… The last time wages growth was this good was back in 2009, when it was on the way down during the financial crisis. And although this is by no means a runaway rate of growth for wage inflation, it does mark a clear improvement from recent trends, and could hint that the Fed is now behind the curve as far as policy setting goes.

The next question is, if the Fed has left it too long before hiking, will forecasters have to ramp up their expectations for Fed tightening in 2016 and 2017, and start to question the view that future rises will be "cautious"? It is too early to say with any certainty. Next month's labour report, especially the wages series will shed more light on this. But we might see some substantially more aggressive pricing of Fed tightening next year, with consequent support for the USD and bond yields, especially at the front end."
Tanweer Akram, senior economist at Voya Investment Management says:
The strong job growth in October paves the way for the Fed to hike the fed funds target rate in December… Job growth occurred in a range of industries last month, including professional/business services, health care, retail trade, food services, and construction.

Job growth has been strong for the past several years, while inflationary pressures remain subdued. In the past 12 months, job growth has averaged 230K per month. Average hourly earnings rose 2.5% year over year.

The Fed is very likely to raise the fed funds target rate in December. The strong of job growth implies that there is no reason to keep the fed funds target rate at near zero level. However, the pace of tightening is likely to restrained and gradual going forward as inflationary pressure remain subdued. Long-term interest rates should still stay at historically low levels, after rising slightly with monetary tightening, due to still low short-term interest rates, subdued inflationary pressures, elevated size of the Fed's balance sheet, continued strong demand for safe assets, low long-term interest rates in overseas advanced economies and quantitative easing in the euro zone and Japan."
Instant reaction on Twitter suggests that a Fed rate hike in December is now a done deal.
We will get another non-farm payrolls report before the meeting on 15-16 December, though (on 4 December).
The dollar is rallying, as the strong jobs data tip the odds in favour of a December rate hike.
The September increase in jobs was revised down to 137,000 from 142,000 but the August number was revised higher to 153,000 from 136,000.
Average hourly earnings arose 0.4% in October from the previous month and 2.5% year-on-year – also much stronger than expected.
Updated
The unemployment rate has dipped to 5% from 5.1%.
Non-farm payrolls smash expectations
News flash: the American economy created 271,000 new jobs last month, versus expectations of 180,000.
Updated
Non-farm payrolls are less than ten minutes away now. This is what we are expecting:
A rise of 180,000 to 190,000 in the headline number for October (up from September and August, but a bit below the 200,000 plus monthly increases seen over the last couple of years)
An unchanged unemployment rate at 5.1%
A small pick-up in average hourly earnings growth to 2.3% from 2.2% year-on-year in September
European stock markets are still in the red ahead of the US jobs data. The FTSE 100 index has also slipped, trading down 7.6 points at 6357.29, a 0.1% fall.
Wall Street is expected to open lower after Walt Disney missed sales estimates.
The non-farm payrolls data, out at 1.30pm UK time, are seen as one of the last few make-or-break data points before the Federal Reserve's next monetary policy meeting in December.
Bank of England deputy governor: focus on date of rate rise is misleading
Back to the UK, where Bank of England deputy governor Nemat Shafik has said that knowing precisely when interest rates will rise is not what really matters. (Britain's homeowners and businesses may disagree with that.) Shafik, a former deputy managing director of the International Monetary Fund, also insisted that the central bank's system of "forward guidance" was not failing.
Shafik, known as Minouche, defended the Bank's failure to give any clearer signal as to when the first rate hike in years will come, and rejected claims that it was failing to give promised advance notice. She told BBC Radio 4's Today programme:
No, I don't think that's the case. Isn't it better that the Bank of England give the public and the markets a sense of what our best collective judgment is of what is going to happen in the economy than to catch people by surprise?

The consistent message that we have given is that future interest rate rises will be limited and gradual and I think everybody on the monetary policy committee signs up to that guidance and so far that has proven to be right. Even though I understand why people are concerned about the actual date of the first rate rise, what really matters to the economy is the path, and the path will be limited and gradual."
Updated
China to lift IPO freeze by year end
China will lift a freeze on initial public offerings by the end of the year, removing one of its key measures of support for the stock market as equities recover from a $5 trillion rout, Bloomberg reports.
Ronald Wan, Hong Kong-based chief executive officer told the news agency:
There will be short-term damage to sentiment in the market. But the government has to proceed with market reform and the timing for IPOs will be better now than next year as the market seems to have some strength."
You can read the full story here.
Liam Neeson calls for help for laid-off Michelin workers
Meanwhile, Hollywood star and Ballymena's most famous son Liam Neeson has called for help for the workers who are going to lose their jobs at the Michelin tyre plant in the North Antrim town, writes Henry McDonald.
The actor expressed outrage today over the 860 redundancies at the factory which were announced earlier this week. "It's tragic and the fallout will be felt throughout the whole community," Neeson said on Friday.
The star of 'Schindler's List' and the 'Taken' series added:
I am a great believer in the character and worth ethic of my people in the North. I've always maintained that our wee corner of the globe is one of the world's best kept secrets, not least in its potential for developments in all areas of industry."
Neeson urged the semi-dysfunctional power sharing executive in Belfast alongside Invest Northern Ireland to "get to work now and promote the 'hell' out of the province. They have and always will have my full support."
After the loss earlier this year of 800 jobs at the JTI Gallaghers tobacco plant in Ballymena coupled with Tuesday's Michelin's grim announcement the Co. Antrim town is going to need plenty of star-quality support in its quest to bring in new employment.
Updated
Lee Hopley, chief economist at EEF, the manufacturers' organisation, said:
While manufacturing contracted in the last quarter there are signs that some parts of industry were at least were mounting a comeback after a summer lull. Together with the sharp rebound in October's PMI, we may yet see some more positive data readings in the remainder of 2015 but the risks, reinforced in yesterday's Inflation report, from weaker activity in emerging markets are likely to present some headwinds for manufacturers into next year.

Indeed, another disappointing set of trade figures for manufacturing show that these effects are already being felt with a significant fall in goods exports to China over the past three months."
However, despite the latest improvement the ONS said trade was likely to make a negative contribution to Britain's economic output in the third quarter.
And while manufacturing was strong in September, a weak start to the third quarter meant that over the quarter as a whole the sector disappointed with a 0.4% decline, and remained in recession.
Ruth Miller, UK economist at Capital Economics, says:
September's trade and industrial production figures provide further signs that the UK's economic recovery remained unbalanced in the third quarter…

Looking ahead, the improvement in August's Markit/CIPS report on manufacturing in October has offered some hope that the sector may now have passed the worst. But it is still early days and we will need to see some more upbeat data before a renaissance in UK manufacturing can be declared. Accordingly, while we expect the overall economic recovery to maintain a solid pace, it is set to remain unbalanced in the near term at least.
Updated
UK factory output posts biggest rise since April 2014
Here in the UK, factory output has come in stronger than expected. Manufacturing rose 0.8% in September, the biggest monthly increase since April 2014. City economists had expected a rise of 0.4%.
Overall industrial production, which also includes mining and utilities, fell 0.2% on the month after rising 0.9% in August.
Over the third quarter, industrial output was up 0.2%, down from a 0.7% gain in the second. This was a tad below the 0.3% rise that the Office for National Statistics assumed in its initial estimate of third-quarter GDP growth.
The ONS said the figures will have a negligible impact on the third-quarter GDP figures. The statistics office's first stab at the numbers showed economic growth slowing to 0.5% between July and September from 0.7% in the previous quarter.
Updated
The dollar is rallying again boosted by comments from Atlanta Fed president Dennis Lockhart yesterday. Seen by many as a swing voter at the US central bank, he left the door wide open to a rate rise at the December meeting.
He said at a speech in Bern, Switzerland.
Going into that [October] meeting, I felt a successful outcome would be expectations aligning with the view that 'liftoff' at our upcoming December meeting is a possibility, but not a certainty. I am satisfied that was accomplished."
He reckons the case for what will be the first rate hike in about a decade will continue to strengthen before the Fed's December meeting.
At this juncture, it's my assessment that the US economy is likely in an above-potential growth phase, with labor markets continuing to improve, and with an underlying inflationary trend that, if not rapidly moving toward the [Fed's] objective, is at least not moving away from that objective. I think the case for liftoff will continue to firm up."
The pace of rate hikes after that "will most appropriately be very gradual."
… and the dollar could push the euro below $1.08 for the first time since April if we get a strong US jobs report at lunchtime, which would tip the odds in a favour of a Fed rate hike next month. It is currently down 0.1% at $1.0870.
Updated
Disappointing open for European markets
The FTSE 100 index has started Friday flat. It's up just 3.6 points at 6368.53 ahead of industrial output and trade figures at 9.30am.
Eurozone indices have slipped into the red following weak German industrial production data. Germany's Dax is down 0.2% and France's CAC has lost 0.55%, prompted by a widening French trade deficit.
The pound has hit a one-month low of $1.5169 against the dollar, down 0.3% on the day.
Updated
Talk Talk has released on update on last month's Cyber attack. Sean Farrell writes:
Almost 157,000 TalkTalk customers had their personal details hacked in last month's cyber-attack on the telecoms company.
Talk Talk said the total number of customers affected by the attack two weeks ago was 156,959, including 15,656 whose bank account numbers and sort codes were hacked.
The total is 4% of TalkTalk's 4 million customers and is a small fraction of the number feared when news of the attack broke. The number of customers whose bank details were stolen is lower than an estimate of less than 21,000 released a week ago.
The company said 28,000 credit and debit card numbers, with some digits obscured, stolen by the hackers cannot be used for payment and customers cannot be identified from the data.
Read the full story here.
Updated
AstraZeneca buys US biotech ZS Pharma
A day after releasing better-than-expected third-quarter results and upgrading its annual forecasts, British drugmaker AstraZeneca has unveiled a sizeable acquisition. It has agreed to buy Californian biotech ZS Pharma for $2.7bn (£1.8bn), beating off competition from Swiss firm Actelion.
ZS Pharma is working on novel treatments for hyperkalaemia, a serious condition of elevated potassium in the bloodstream, which is typically associated with chronic kidney disease and chronic heart failure. Peak sales of the firm's ZS-9 potassium-binding compound, which is under review by US regulators, are forecast to top $1bn.
It is the latest deal in a bumper year for mergers and acquisitions in the pharmaceutical world. New York-based pharma giant Pfizer is courting Allergan and is reportedly hoping to get a deal done by Thanksgiving. A deal would unite the US makers of Viagra and Botox and create a drugs giant worth more than $300bn.
Pfizer has turned its attention to Allergan after being rebuffed by the UK's GlaxoSmithKline this year and its spectacular failure to acquire AstraZeneca for £70bn last year. It wants to shift its tax base abroad to lower its tax bill. Allergan is domiciled in Dublin and its tax rate is far below Pfizer's in the US.
Updated
…and you can watch the John Lewis Christmas ads from the last few years here, including Monty the Penguin (2014), the Bear & the Hare (2013), the Journey (2012) and The Long Wait (2011).