Analysts say 0.6% drop in October shows consumers are taking a breather before festive season. But high street outlook remains healthy as figures for the last three months showed growth for the 23rd consecutive month, increasing by 0.9%…
This article titled "UK retail sales fall hints at pre-Christmas lull" was written by Phillip Inman, economics correspondent, for theguardian.com on Thursday 19th November 2015 11.08 UTC
Retail sales slumped in October despite shops slashing prices to entice bargain hunters.
The Office for National Statistics said on Thursday the quantity of goods bought dropped by 0.6% on the previous month, slightly more than analysts had expected.
However, there was a City consensus that consumers were "taking a breather" before the festive shopping season, and the underlying situation was still one of healthy growth.
The ONS emphasised the point with figures for the last three months on the previous quarter that showed growth for the 23rd consecutive month, increasing by 0.9%. Sales volumes were running 3.8% higher than a year ago, it said.
Over the past year, food and fuel have taken the biggest toll on sales after a 3.6% decline in fuel sales and a 1.5% fall in food.
Household goods stores reported a 3.1% rise in sales from October last year, but only after a 2.3% cut in prices. Clothing recorded a 2.3% rise in sales over the same period after prices were kept flat.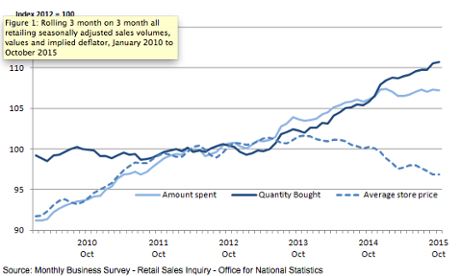 Chris Williamson, chief economist at the financial data provider Markit, said: "The decline needs to be looked at in light of the 1.7% sales surge seen in September, leaving the three months growth rate – a good indicator of the underlying sales trend – showing a healthy 0.9% rate of increase.
"Further spending growth is likely in the coming months, for the short-term at least. The longer-term outlook is more uncertain, being dependent on trends in inflation, wages and interest rates."
The prospect of millions of households receiving letters in a month informing them of tax credit cuts may also play a part in dampening consumer demand going into the new year.
Jeremy Cook, chief economist at the currency dealer World First, said: "Retail sales in October are always a strange one – unable to benefit from the 'back to school' rush and unlikely to see too many Christmas shoppers and hence can see a slight slip in expenditure.
"This year is no different, given September's number was boosted by strong spending around the Rugby World Cup and warm weather, and we have seen a natural pause on the nation's high streets before the manic festive season begins."
guardian.co.uk © Guardian News & Media Limited 2010
Published via the Guardian News Feed plugin for WordPress.