World markets at their highest since August as investors calculate that the US central bank won't raise rates this month, and probably not until 2016. Eurozone inflation gauge dips back into negative territory, placing the euro under pressure…
This article titled "World stock markets hit two-month highs as stimulus hopes build – business live" was written by Graeme Wearden (until 13.45) and Nick Fletcher, for theguardian.com on Friday 16th October 2015 13.21 UTC
US industrial production slips in September
Every piece of US data is now watched carefully to see how it might influence the US Federal Reserve in its interest rate policy.
But there is not too much to glean from the latest figures. US industrial production dipped 0.2% in September, in line with expectations. August's figure was revised to show a 0.1% decline compared to the 0.4% fall originally reported.
Weakness in the oil and gas sector was mainly responsible for the fall.
Later comes the Michigan consumer confidence survey.
Now here's an admission. Credit Suisse has said its clients have no idea what is going on out there in the markets. They are "lost and bearish." The bank says:
Never have we seen so many clients who just do not know what is happening and have cashed up. US investors, in particular, were clearly cautious. European and especially Asian investors were more constructive.

Reasons for the bearishness: Global growth being at 'growth recession' levels, China, QE running out of steam, the rise in non-energy high yield credit spreads, the risk of the Fed policy mistake (with most clients believing, correctly in our opinion, that a December rate rise would be a policy mistake and see Yellen's communication as being poor), US equities being expensive on 'normalised' earnings and the 4-week moving average of earnings revisions falling close to a 4-year low.

Two new concerns often cropped up: (i) the $0.5trn decline in global foreign exchange reserves, with this being likened to monetary tightening…[But] 80% of the decline is due to China, where the fall is largely being sterilised. (ii) The rising political tide against profits (living wage in the UK, the BEPS OECD initiative on corporate taxation).

What was not mentioned: Eurozone politics, US debt ceiling, Russia's involvement in Syria or the UK referendum on the EU.

In sum, we think clients are focused more on risks, which are abnormally high, rather than reward, which is also high, with the equity risk premium, for example, at 5.8%. We would agree, however, that visibility is abnormally low.
Chinese investors appear to have regained their appetite for risk.
The Shanghai Composite Index gained 6.5% this week, helped by speculation that Beijing might do more to stimulate its economy.
Some bolder traders have been borrowing more money to buy shares, anticipating that markets are going to rally this autumn.
Xiao Shijun, an analyst at Guodu Securities, explains (via the WSJ):
"Some medium- to long-term investors are betting that the market has bottomed and thus are more confident to add leverage."
And there are signs that the authorities have relaxed their recent clampdown on lending, which was imposed to calm excessive speculation.
China's outstanding margin financing has risen 5.6% since the start of the month and looks to have bottomed, according to IG's Angus Nicholson.
Ever wondered what you have to do to get banned from the City?

Well, running up losses of £1.4bn through rogue trading will do the trick.
The Financial Conduct Authority – Britain's City watchdog – has declared today that former UBS trader Kweku Adoboli cannot work in the industry again after demonstrating "a clear and serious lack of honesty and integrity."
It added:
"In reaching its decision, the FCA has considered all the relevant circumstances and the severity of the risk posed by Mr Adoboli to consumers and financial institutions, and to confidence in the market generally."
Adoboli was released from prison this summer, having been sentenced to seven years in 2012 for Britain's biggest ever fraud. He is now fighting efforts to deport him to Ghana, where he was born in 1980.
Updated
Kristin Forbes' speech today highlights that the Bank of England's interest rate-setting committee is split into several camps, even though it voted 8-1 to leave borrowing costs unchanged last week.
IHS's Howard Archer has broken them down:
The current position seems to be that Ian McCafferty is already voting for interest rate hike from 0.50% to 0.75%, while Kristin Forbes and (seemingly still) Martin Weale both believe interest rates need to rise before long.

In contrast, Andy Haldane and Gertjan Vlieghe are clearly far off from voting for a rate hike while Ben Broadbent has also recently indicated that he is some way off from such a move.
That leaves governor Mark Carney, and deputy governors Minouche Shafik and Jon Cunliffe in the centre ground.
Updated
Bank of England's Forbes: Emerging market doom and gloom is "overblown"
Capping off a busy week for views out of the Bank of England's rate-setting committee, Kristin Forbes is giving a speech in Brighton.
The key message for markets from Forbes is that the next move in rates is up and is not too far off.
That puts her at odds with the Bank's chief economist Andy Haldane who has raised the prospect of the next move being down, even further below the current record low Bank rate of 0.5%.
Forbes says, however, that pessimism about the global economy is overdone.
Forbes, who is also professor of Management and Global Economics at MIT's Sloan School of Management, told the Brighton and Hove Chamber of Commerce that:
"Although the risks and uncertainties in the global economy have increased, the widespread pessimism is overstated."

"Despite the doom and gloom sentiment, the news on the international economy has not caused me to adjust my prior expectations that the next move in UK interest rates will be up and that it will occur sooner rather than later."

"Of course, if some of the potential risks to emerging markets play out – such as a sharper slowdown than expected or financial crisis of some type – then the UK economy is unlikely to be immune. But based on what has actually occurred to date, the limited direct exposure of the UK to emerging markets (even when incorporating second-round effects through other countries such as Germany), appears manageable. This is especially true when considered relative to the strength of the UK's domestic-led expansion – which shows all signs of continuing, even if at a more moderate pace than in the earlier stages of the recovery."
At its last meeting, the Bank's Monetary Policy Committee (MPC) left rates at a record low of 0.5%. But one of the nine rate-setters, Ian McCafferty, voted for a rate rise. Perhaps Forbes will be joining him soon….
Updated
El-Erian: Fed could hike in December
Investors who believe the Federal Reserve won't raise rates this year could be making a mistake, argues Mohamed El-Erian, the chief economic adviser at Allianz.
El-Erian, former CEO of bond-trading giant Pimco, believes that that Janet Yellen and colleagues could take the plunge at their meeting in December, given the strength of the US jobs market.
He's written his views up for Bloomberg. Here's the conclusion:
After a frustratingly slow post-crisis start, the U.S. economy has had an impressive run of job creation. But further progress is dependent on important structural issues that are not easily addressed by Fed policy.

Meanwhile, wage and inflation pressures are starting to build, though in a rather modest fashion. And concerns about excessive risk-taking — an unintended side effect of the central bank's prolonged use of unconventional monetary policy — are far from settled.

Taken together, this suggests that, even though an October rate hike can almost certainly be discounted, it would be premature to entirely rule out action by the Fed in December, let alone to predict it would be postponed until March of next year. Only a lot more signs of weakness in the domestic economy, as well as a return of global financial market instability, would make that a sure bet.
World markets hit two-month high on stimulus hopes
World stock markets have hit their highest levels since August, driven by predictions that US interest rates are staying low for a while yet.
The main European indices have all gained nearly 1% this morning, following those gains in Asia overnight and a rally on Wall Street yesterday.
That has pushed the MSCI World Index up by 1.38% to levels not seen since August 21.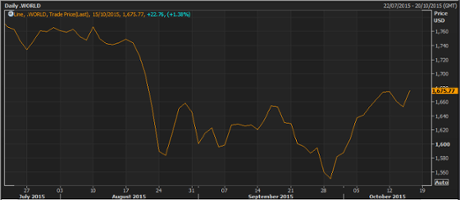 Global markets have now gained 6% in October. So unless there's a major reverse next week, the MSCI will post its best month since 2011.
That's quite a bounceback from this summer's turmoil, which saw around $11 trillion wiped off global stocks.
The prospect of more ultraloose monetary policy, plus a little more calm over China's slowdown, are pushing shares up.
Jasper Lawler of CMC Markets says traders are anticipating more stimulus in Europe and China, rather than worrying about the Fed whipping away the punchbowl with an early rate hike:
Hopes of a delayed rate hike in the US and additional stimulus from Europe and China is helping global stock markets finish the week on a high. Shares across Asia have hit a two month high while the Shanghai Composite is setting up for its best weekly performance since early June.

Weak US inflation data, albeit above expectations, further bruised the case for a Federal Reserve rate rise. Markets are looking ahead to next week when the ECB meeting and China's GDP report provide opportunities for the European Central Bank and the People's Bank of China to increase stimulus.
Here's the situation.
FTSE 100: up 0.8% or 49 points at 6,388
German DAX: up 0.86% or 86 points at 10,151
French CAC: up 0.8% or 38 points at 4,713
Japan's Nikkei: Closed up 1.1% or 194 points at 18,291
China's Shanghai Composite: Closed up 1.6% or 53 points at 3,391.
Uber is not illegal, rules High Court
Minicab-hailing app Uber has just won a victory in the high court.
A judge has ruled that its GPS technology does not break violate the Private Hire Vehicles (London) Act 1998 bans private hire cars from being equipped with taximeters.
My colleague David Hellier explains:
Had it lost the case, the company would have been forced to change its service to comply with rules that protect traditional black-cab drivers.
Here's the full story:
Eurozone back in negative inflation
It's official, the eurozone has slumped back in negative inflation again, intensifying pressure on the European Central Bank to act.
Eurostat has confirmed that prices across the euro area fell by 0.1% in September, down from an inflation rate of +0.1% in August.

The decline is mainly due to weak energy prices. Cheaper oil is driving down the costs of fuel — good news for consumers and business, but it does drag the eurozone inflation rate further from the 2% target.
Howard Archer of IHS Global Insight explains:
This marked the first deflation since March and was down from consumer price inflation of 0.1% in August and 0.3% in May.

A marked relapse in oil prices and very weak commodity prices first undermined and then reversed the upward trend in Eurozone consumer prices that had seen it move from deflation of 0.6% in January to inflation of 0.3% in May.
The ECB has already said it could boost its bond-buying stimulus programme if needed. And with prices falling in many eurozone countries, it could be prompted to act soon:
Britain's John Lewis has reported underwhelming sales for the last week – with takings at its department store flat year-on-year.
But within the figures, there's a trend of customers revising the horrors delights of the 1970s, with strong demand for knitted pouffes and platform shoes. Homeowners are even painting their rooms in brown and orange, risking terrifying flashbacks for those of a certain age.
Hugo Boss shares are being bashed this morning, after it become the latest fashion chain to suffer from the Chinese slowdown.
They fell by 8.5% in early trading, after the German fashion firm cuts its profit and sales outlook. It blamed a slowdown in China, echoing Burberry on Thursday.
Hugo Boss also revealed that sales growth in the US has dropped too, due to weaker spending by tourists. That suggests the strengthening dollar is hurting, leaving overseas visitors with less to spend.
Nestlé hit by noodles recall
Food giant Nestlé is missing out on today's rally, after missing sales forecasts and cutting its outlook.
Shares in Nestlé are down 2% today, with investors disappointed that revenue has fallen by 2.1% in the first nine months of the year.
The Swiss firm also cut its 2015 outlook to around 4.5%, below its long-term target of between 5% and 6%.
Nestlé suffered emerging market from weakness in China, and also a major food recall in India. In June, Indian regulators slammed its Maggi instant noodle products as "unsafe and hazardous".
Updated
The diesel emissions scandal appears to have cost Volkswagen some ground in the European auto sector.
New figures released this morning showed that car registrations rose for the 29th month running, as the industry continued to recover from the dark days of the eurozone debt crisis.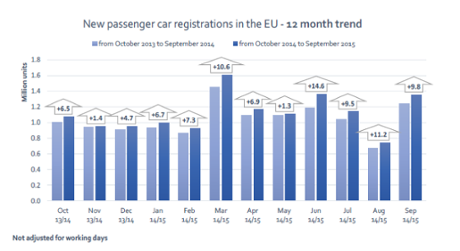 Total sales jumped by 9.8% in September, but Volkswagen only sold 8.3% more cars compared to a year ago.
This cut VW's market share to 23.3%, down from 23.7%.
That's not a major decline – but remember that the emissions scandal only broke in mid-September, so this could be just the start….
Back in Shanghai, the Chinese stock market has hit a seven-week high as fears over its economy recede a little.
The Shanghai Composite jumped 1.4% today, suggesting traders aren't too worried about Monday's growth figures:
European stock markets are putting recent turbulence behind them.
The main indices are all up in early trading, with Britain's bluechip FTSE 100 index jumping by 34 points of 0.5%. That means the Footsie has gained over 5% in October.
Here's the situation:

European markets are now on track for their longest series of gains since April, points out Mike van Dulken of Accendo Markets.
He adds:
This remains driven by weak/mixed macro data from China, US and Europe delaying expectations for a Fed rate hike and high hopes of additional global stimulus which is considered positive for risk appetite.
Yesterday's US inflation data is also helping to push money into shares.
Prices fell by 0.2% month-on-month in September, leaving the price of living unchanged year on year.
"Money managers are saying it looks increasingly like the Fed will not hike because the data around the world is coming in weak," Mads Pedersen, head of global asset allocation at UBS Wealth Management, told the Wall Street Journal.
"Lukewarm data is good for equities again, just like it has been for most of this recovery."
A flurry of weak corporate data in recent days has left most economists convinced that the Fed won't raise interest rates at its monetary policy meeting later this month.
This week we've seen falling profits at Goldman Sachs, a profit warning from Walmart, and even falling demand for high end Winnebagos as US consumers cut back.
And earlier this month, the US employment figures were a big disappointment – with much fewer new jobs created than expected (just 142,000).
That doesn't add up to the first rise in US interest rates since the financial crisis began.
David Levy, portfolio manager at Kenjol Capital Management, explains:
"Investors are reacting to the increasing likelihood that the Fed rate hike, which had been expected just a month ago in September, now likely won't happen during the course of this year."
There's also talk in the markets that the Chinese government could announce fresh stimulus measures soon.
Pressure on Beijing could grow on Monday, when Chinese GDP figures are released. Economists predict that growth slowed to 6.8% in the last quarter, down from 7% in Q2.
Asian markets hit two-month highs
Asia-Pacific stock markets have hit their highest level in two months, as traders in Tokyo, Shanghai and Melbourne anticipate that the era of ultra-low global interest rates isn't over yet.
Japan's Nikkei jumped 1%, on hopes that the US Federal Reserve isn't going to end the party this month. Other stock markets in the region are also showing gains:

The Agenda: Markets to rally on US Fed hopes
Good morning, and welcome to our rolling coverage of the world economy, the financial markets, the eurozone and business.
Investors will be watching the US economy closely today, for signs that the world's largest economy may be slowing. There are two pieces of economic data on the agenda:
US industrial production, at 2.15pm BST
The Michigan Consumer Confidence report, at 3pm BST
Economists reckon the figures might be weak, as Michael Hewson of CMC Markets explains:
Today's US industrial and manufacturing production data for September are expected to reinforce the disappointing narrative with declines in both of -0.3% and -0.2% respectively, both of which would be negative for the second month in succession.
And negative economic data looks good for stocks right now….
…so shares in Europe are expected to rise, as traders bet that the US Federal Reserve could leave interest rates unchanged for the rest of the year.
As Hewson puts it, with the data so mixed….
…. is hard to see how policymakers can arrive at a consensus for what would be a momentous decision of being the first rise in US rates for 9 years. No-one will want to be remembered for getting a call of that magnitude wrong.
There's also financial results from foodmaker Nestlé, French supermarket Carrefour, and UK retailer John Lewis (of which more shortly….).
Updated
guardian.co.uk © Guardian News & Media Limited 2010
Published via the Guardian News Feed plugin for WordPress.