PLEASE NOTE: Add your own commentary here above the horizontal line, but do not make any changes below the line. (Of course, you should also delete this text before you publish this post.)
---
This article titled "Greece debt crisis: ECB tightens screw ahead of emergency eurozone summit – as it happened" was written by Graeme Wearden (now), Nick Fletcher, Paul Farrell and Helen Davidson (all earlier), for theguardian.com on Monday 6th July 2015 20.50 UTC
Closing summary: Last chance for Greek deal looms
We're been live-blogging the reaction to Sunday's Greek referendum for around 21 hours now. It's time to wrap up and give the Guardian web servers a rest.
So, a final recap.
Greece and the eurozone will make one last, desperate attempt to make progress towards an urgently needed bailout deal on Tuesday.
Leaders, and finance ministers, will both hold crucial meetings in Brussels, after Sunday's referendum result raised the risks of Grexit to new heights. It's a final chance for Greece to propose a new reform plan that could start the ball rolling towards a new aid package, but the journey looks perilous.
The leaders of France and Germany are scrambling to reach a consensus tonight in Paris, at a top-level meeting about Greece (photos here).
Greece's prime minister has held telephone calls with the heads of the International Monetary Fund and also the European Central Bank. Alexis Tsipras told Mario Draghi that the capital controls in Greece need to be lifted, but was told by Christine Lagarde that the IMF cannot released more funds now Athens is in arrears.
Earlier, Francois Hollande insisted that there was time to reach a deal. Angela Merkel sounded less optimistic, though, warning that there was currently no basis for an agreement. Press conference highlights start here.
Spain's PM warned that time was now very short, while Dutch leader Mark Rutte said Greece must accept deep reforms to keep its place in the eurozone.
Analysts aren't convinced that progress will be made tomorrow….
The European Central Bank has tightened the rules for giving emergency funding to Greek banks tonight. It is now imposing tougher haircuts on the assets they hand over, restricting their ability to access the funding.
The ECB also reportedly rejected a request for €3bn in extra ELA support:
This means Greek banks will remain shut for at least two more days, after capital controls were extended until the end of Wednesday.
Over in Greece, Alexis Tsipras has mobilised the leaders of the main opposition parties to support him. They signed a joint statement, saying Sunday's referendum showed Greece's desire for a "socially just and economically sustainable agreement".
There's talk of a new mood of national unity, but it could be swiftly shattered.
Tsipras has also passed the honour/poisoned chalice of being Greece's finance minister to Euclid Tsakalotos, following Yanis Varoufakis's resignation this morning.
Tsakalotos was sworn in tonight, and will represent Greece at Tuesday's eurogroup meeting. He's unlikely to don a tie for the occasion, though. Here's our profile of Euclid.
Varoufakis has denied tonight that he was a sacrifical lamb, having exited the finance ministry in classic style today:
In the UK, George Osborne has warned that the risks to the UK are rising. Britain is already providing more consular support in Greece for expats and holidaymakers, and help for businesses struggling to trade with Greek firms.
And Fitch has warned that the risks of Greece leaving the eurozone are much higher, after last night's resounding No.
I'll pop back into the blog if there are any major developments — otherwise, please tune in tomorrow morning for more. Thanks, and goodnight. GW
Updated
Alexis Tsipras has discussed the Greek banking sector's liquidity issues with ECB president Mario Draghi tonight.
Tsipras also raised the "immediate need" to lift capital controls during the phone call, according to a government spokesman quoted on Reuters.
Our europe editor, Ian Traynor, sums up the situation tonight:
Germany and France scrambled to avoid a major split over Greece on Monday evening as the eurozone delivered a damning verdict on Alexis Tsipras's landslide referendum victory on Sunday and Angela Merkel demanded that the Greek prime minister put down new proposals to break the deadlock.
As concerns mount that Greek banks will run out of cash and about the damage being inflicted on the country's economy, hopes for a breakthrough faded. EU leaders voiced despair and descended into recrimination over how to respond to Sunday's overwhelming rejection of eurozone austerity terms as the price for keeping Greece in the currency.
Tsipras, meanwhile, moved to insure himself against purported eurozone plots to topple him and force regime change by engineering a national consensus of the country's five mainstream parties behind his negotiating strategy, focused on securing debt relief.
Tsipras also sacrificed his controversial finance minister Yanis Varoufakis, in what was seen as a conciliatory signal towards Greece's creditors.
In Paris, Chancellor Angela Merkel and President François Hollande tried to plot a common strategy after Greeks returned a resounding no to five years of eurozone-scripted austerity. The two leaders were trying to find a joint approach to the growing crisis ahead of an emergency eurozone summit on Tuesday to deal with the fallout.
But Merkel said there was no current basis for negotiating with the Greek side and called on Tsipras to make the next move.
As eurozone leaders prepared for today's emergency summit in Brussels , the heads of government were at odds. France, Italy and Spain are impatient for a deal while Germany, the European commission and northern Europe seem content to let Greece stew andallow the euphoria following Sunday's vote give way to the sobering realities of bank closures, cash shortages and isolation…..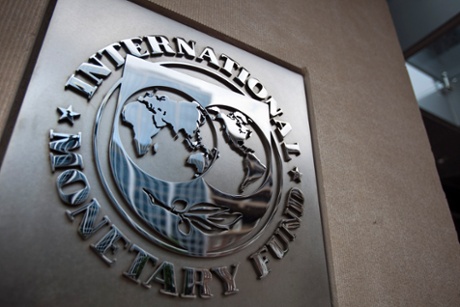 Christine Lagarde spoke to Alexis Tsipras today, and explained that the International Monetary Fund can no longer provide money to Greece after it failed to repay €1.6bn last week.
Under IMF rules, once a country is in arrears, fresh funds cannot be supplied, a spokesman explained (via Reuters)
Hat-tip to Sky News's Ed Conway for getting into Yanis Varoufakis's leaving bash tonight and grabbing a quick interview.
Greece's finance minister denied that he'd sacrificed himself, declaring:
"No, no, this is politics, mate. There are no sacrificial lambs.
Varoufakis added that he'll rest on Tuesday, but is bound to offer advice from the sidelines.
Tuesday's edition of the Guardian will carry many letters from readers about the Greek crisis, expressing support for Greece at this time.
Italy's finance minister has suggested that the eurozone is willing to consider a new aid programme for Greece:
Pier Carlo Padoan told Canale 5 television.
"The 18 (other countries in the euro) are open to re-considering a Greek request which can only be a request for a new programme, not a continuation of the old one,"
Spain's prime minister Mariano Rajoy has echoed Angela Merkel and Francois Hollande tonight, by warning that time is very short:
Dutch prime minister Mark Rutte has warned Greece it must decide whether it wants to remain in the eurozone, and accept the 'deep reforms' needed.
He told MPs tonight that Athens must deliver acceptable proposals to its creditors.
If things stay the way they are, then we're at an impasse. There is no other choice, they must be ready to accept deep reforms."
A Greek insider has told Reuters that the European Central Bank hiked the haircut on Greek assets by around 10%, but the impact will be 'minimal'.
So the ECB hasn't pulled the plug, yet…..
Updated
AFP has a good summary of the situation in Greece's banking sector:
Greek banks to stay closed Tuesday and Wednesday
Greek banks will remain closed on Tuesday and Wednesday with limits on daily withdrawals unchanged, officials said on Monday as the European Central Bank maintained its liquidity assistance to the nation's beleaguered lenders.
"Until Wednesday evening we continue as things stand today," said Louka Katseli, chairwoman of the National Bank of Greece.
Speaking on behalf of the association of Greek banks, she added:
"If there is a decision by the European Central Bank in the meantime enabling us to modify this decision, there will be a new decision."
The European Central Bank's governing council decided to maintain the emergency liquidity assistance keeping Greek banks afloat at the level set on June 26, the Frankfurt-based bank said in a statement.
But the ECB said it had also "adjusted" the collateral demanded from Greek banks in return for the assistance.
"The financial situation of the Hellenic Republic has an impact on Greek banks since the collateral they use in ELA relies to a significant extent on government-linked assets…
"In this context, the governing council decided today to adjust the haircuts on collateral accepted by the Bank of Greece for ELA," the ECB added, without specifying the level.
Capital controls were enacted on June 28, limiting ATM withdrawals by Greeks to €60 per account daily after a referendum on bailout terms sparked a run on deposits.
The Bank of Greece had requested an increase in emergency liquidity assistance (ELA) and that request was the subject of the ECB meeting, held a day after 61% of Greeks voted against further austerity measures in Sunday's plebiscite.
ELA is currently the only source of financing for Greek banks, and therefore the Greek economy. But with Greece's bailout programme now officially expired and in the absence of any new programme, the conditions for its continuation are no longer met.
But analysts believe the ECB will not want to be the one to pull the plug on Greece and force the country out of the single currency.
Updated