Eurozone unemployment hits 12.1%. Nearly one in four young people out of work. Falling inflation makes European Central Bank rate cut more likely. Spanish GDP falls by 0.5%. Italy's prime minister wins second confidence vote…
---
This article titled "Eurozone jobless rate hits record high as inflation falls and Spanish recession deepens – as it happened" was written by Graeme Wearden and Nick Fletcher, for theguardian.com on Tuesday 30th April 2013 08.59 UTC
5.57pm BST
Moody's downgrades Slovenia
Well it didn't take 24 hours.
After Slovenia earlier delayed pricing a bond pending a possible rating announcement, the announcement has come.
Moody's has downgrades the country's sovereign debt rating from BAA2 to BA1 with a negative outlook. It blamed the state of Slovenia's banking sector, the marked deterioration of the government's balance sheet and uncertain funding prospects that heighten the chances that external assistance will be needed:
Slovenia's vulnerability to external shocks, like though brought about by the crisis in Cyprus, could make it difficult for the sovereign to fund itself at sustainable rates, which increases the likelihood that authorities would need to request an external assistance programme.
Here's one of our earlier pieces looking at the state of the country.
And on that note, it's time to close up for the evening. Thanks for all your comments, and we'll be back tomorrow.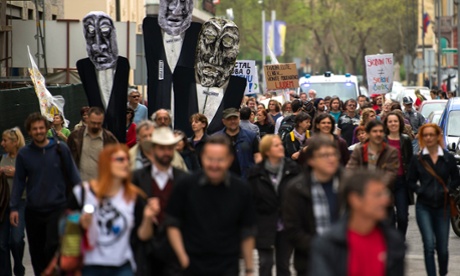 5.44pm BST
Cyprus MPs unhappy despite bailout vote success
Back to Cyprus. The loan agreement may have been endorsed – if narrowly – but if the incendiary debate that preceded the vote is anything to go by Cyprus is far from being out of the woods, writes Helena Smith.
Indicative of the passions the EU-IMS backed rescue package has unleashed, MPs described the bailout as being far worse than the 1974 Turkish invasion of the island.

"In ten days this government has triggered ten Turkish invasions," NIkos Koulias, who sits in the House as an independent, told the parliament. "I'm not saying that the best solution is the return to the [Cyprus] pound but it will have less [adverse] effects. If we take the €10bn only to give it back to our creditors then we are worthy of our fate," said the lawmaker who voted down the agreement. 
Updated at 5.45pm BST
5.40pm BST
Italy has taken considerable reform steps, says Merkel
Here's the full quote from German chancellor Angela Merkel on Italy at her press conference with the country's new prime minister Enrico Letta, courtesy of Reuters:
We want to ensure Europe emerges from this crisis stronger than it went into it. As part of that, every country must do its part. Italy has taken considerable steps in this regard.
Letta, who is keen to push the growth agenda, said Rome was committed to maintaining budgetary discipline:
Our task is to continue with the policies of fiscal consolidation and keeping public accounts in order.
5.33pm BST
Italy's Letta calls for same determination on growth as on consolidation
New Italian prime minister Enrico Letta has said he is committed to maintaining the public finances in order.
Speaking at a news conference in Berlin with chancellor Angela Merkel on his visit to Germany, Letta said the crisis the eurozone has been going through has not been solved because Europe has not been strong enough.
Addressing the theme of austerity versus growth, Letta said he wanted to see Europe show the same determination to pursue growthas it does to maintain sound public finances.
Merkel, speaking at a news conference with Letta, said each eurozone country must take its own steps to address its problems. Italy, she said, had already taken considerable steps in the right direction.
She said budget consolidation and growth were not contradictory, and together could lead to better competitiveness. Fighting unemployment was the central issue for Europe (one not going too well to judge by today's figures….)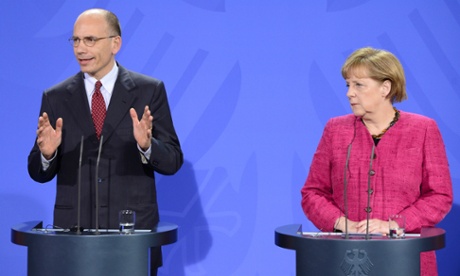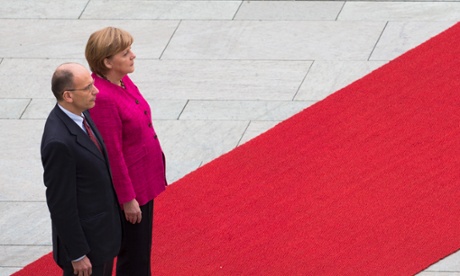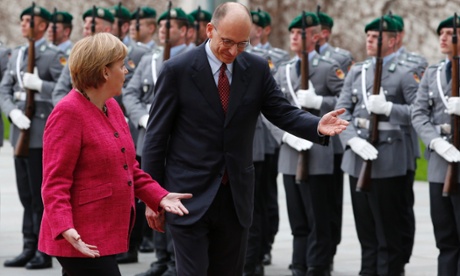 Updated at 5.34pm BST
5.20pm BST
European markets end on a mixed note
European markets have closed for the day and it's been a mixed performance ahead of this week's central bank meetings. Investors have been buoyed recently by the thought of more measures from the banks to stimulate the global economy, not least the ideal of an interest rate cut from the ECB. But today seems to have seen a little profit taking after the rally, given the poor economic figures from Europe and mixed data from the US. So:
• The FTSE 100 finished 27.90 points lower at 6430.12, down 0.43%
• France's Cac closed down 0.31% at 3856.75
• Germany's Dax is up 0.51% at 7913.71
• Italy's FTSE MIB has fallen 0.96% to 16,767.66
• Spain's Ibex is off 0.38% at 8419
The Dow Jones Industrial Average is currently down 0.12% or 17.31 points.
5.02pm BST
Cyprus parliament approves bailout
The Cypriot parliament has narrowly approved the EU bailout, including the hit on depositors' savings.
In a show of hands 29 members voted for approval and 27 against.
Cyprus is now expected to receive a total of €10bn in May.
Updated at 5.14pm BST
4.44pm BST
Deflation not the answer to periphery's woes, says Capital Economics
If the peripheral eurozone economies regained competitiveness via outright deflation, their public and private sector debt levels would spiral higher as a share of GDP, prompting disaster, according to Capital Economics. European economist Ben May writes:
Our central view is that for the peripheral economies' competitiveness to be restored over the next five years, while the rest of the eurozone continued to inflate gently, prices (as measured by the GDP deflator) would need to fall by about 23% in Greece, 12% in Italy and 6% in Spain and Portugal.

But if prices fell in line with these estimates and the real economy grew in line with the IMF's forecasts, in 2020, Greek public debt would be around 170% of GDP, compared to the Troika's forecast of 124%. In 2020, the Spanish, Portuguese and Italian ratios would also exceed the Troika's
sustainable benchmark of 120% of GDP.

Yet the picture would probably be worse than this. The IMF's GDP growth forecasts already look implausibly optimistic, even without deflation. Falling prices would have a further adverse effect. Accordingly, by 2020, government debt could equal 150% of GDP in Spain and Portugal and around 200% in Italy and Greece. Rising anxiety in the bond markets could cause debt service costs to soar, causing the debt position to worsen still further.

These debt ratios would be unsustainable. Fear of them exploding would surely prompt action to bring debt down. But more austerity in the public sector and more deleveraging in the private sector would lead to weaker growth, causing yet more deflation. Swathes of public and private sector
defaults, which would surely follow, would prompt major domestic banking crises.

So internal devaluation (i.e. deflation) would not so much solve the eurozone's problem as shift its manifestation from one sphere to another. In conditions of heavy indebtedness, as a potential solution to the euro's ills, internal devaluation is a snare and a delusion.
4.39pm BST
Slovenia delays bond price
Slovenia, which has come under increasing pressure following the chaotic Cypriot bailout, has delayed a dollar bond issue due to be priced today.
The country said the move was "pending a potential ratings announcement."
According to Reuters, such an announcement could come in the next 24 hours.
Updated at 4.45pm BST
4.31pm BST
Cyprus debates crucial bailout agreement ahead of vote
More news on that crucial vote in Cyprus where parliament has begun debating the island's internationally-sponsored rescue deal ahead of the ballot. Our correspondent Helena Smith writes:
For the past few hours, Cyprus' 56-seat House of Representatives has been fiercely debating the controversial bailout agreement in the knowledge that the island's fate now hangs on the rescue package being endorsed.

If, as seems likely, it is passed, MPs say it will be by a whisker – with a majority of one. The swing vote is expected to come from the hardline European party following an eleventh hour pledge by the main opposition Akel and Edek parties to vote down the €10n deal.

The communist Akel, which curiously signed off on many of the measures before being ejected from power in June, has racheted up the rhetoric by calling for a referendum on whether the country should even remain in the eurozone.

Increasingly, even within the island's business elite, there is a feeling that Cyprus would be better off if it exited the single currency and re-embraced the Cyprus pound. Calls for the island to leave the bloc have mounted as the knowledge has also sunk in that the price of international rescue funds in terms of budget cuts will be far higher than originally envisaged – at €13bn almost double the amount creditors at the EU and IMF had demanded when the agreement was initially sealed on March 25.

Visibly concerned, the island's president Nikos Anastasiades appealed to MPS to support the bailout package ahead of the make-or-break vote. "An appeal: our country is passing through a critical time that calls for a sense of national responsibility and conduct in a manner which is consistent with the greater good," he told reporters as a visited an army camp earlier in the day.

Even if the loan deal is passed as is now expected, there is still a very real possibility that the tiny nation state whose total economic output amounts to less than 2% of the euro zone's entire GDP, will leave the 17-member bloc analysts say.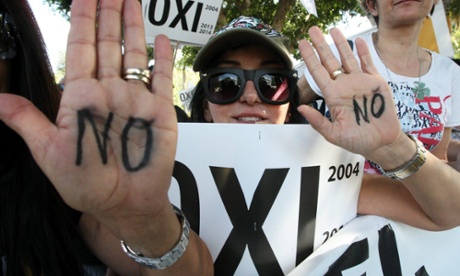 4.09pm BST
Dairy group Glanbia to create 2,000 jobs in Ireland
There was better news on the jobs from Ireland today and in one of the most stressed sectors hit by the Celtic Tiger crash – contruction. Henry McDonald in Dublin writes:
Glanbia Ingredients Ireland announced it will create more than 2,000 jobs, 450 of them in the construction sector as part of an expansion programme.

Embattled Taoiseach Enda Kenny was on hand to hear the announcement from the Republic's biggest diary ingredients company with Glanbia claiming the investment will inject a further €400 million into the country's rural economy. It will be centred on a new dairy production facility at Belview, between counties Kilkenny and Waterford in Ireland's southeast region.

According to Glanbia's chief executive Jim Bergin the plant will be entirely focused on export markets and will supply a range of nutritional powders to an increasing number of regions including the Middle East, Africa, Central America and Asia. It is yet another example of the Republic's relatively strong export sector particulary in the food industry that has remained robust in comparison to the recession battered domestic economy.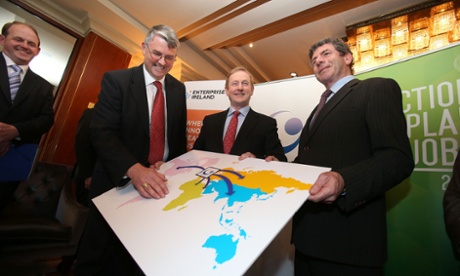 Updated at 4.10pm BST
3.16pm BST
US consumer confidence improves but business activity misses forecasts
And after the good, a more mixed picture.
US consumer confidence increased in April, according to the conference board, with its index up from 61.9 in March to 68.1. James Knightley at ING Bank said:
The index has been rather choppy since the start of the year, which likely reflects uncertainty and worry over the degree of spending sequestration and tax rises. Nonetheless, fears over the impact on household finances seem to be easing with consumer expectations rising to 73.3 from 63.7.

Given this series has a decent correlation with consumer spending, this is an encouraging piece of news.
But a measure of US business activity showed a contraction for the first time since September 2009.
The ISM/Chicago index fell to 49% in April (anything below 50 is a contraction) compared to 52.4 in March and missing expectations of an improvement to 52.5.
Updated at 3.24pm BST
2.18pm BST
US house prices rise more than expected
More positive news from the US housing market. Single home prices rose by more than expected in February, recording their best rise since May 2006.
The S&P/Case Shiller index rose a seasonally adjusted 1.2% compared to expectations of a 0.9% rise. Year on year the rise was 9.3%. As the US Federal Reserve meets to consider its next move on measures to boost the world's largest economy, it appears the housing market is one bright spot.
2.08pm BST
Larry Elliott: ECB must heed the warning signs
Our economics editor, Larry Elliott, writes that the ECB must show decisive action on Thursday by easing monetary policy. Cutting rates, alone, isn't enough.
Larry writes:
In itself, a quarter-point cut in interest rates to 0.5% would do little to revive demand, ease the credit crunch or create jobs. Instead, it should be part of a three-pronged approach to boost growth. The cut in rates should be accompanied by an ECB announcement that it is willing to embrace the unconventional methods deployed by the Federal Reserve, the Bank of England and Japan to underpin activity. It should also be the catalyst for a less aggressive approach to cutting budget deficits, with countries given more time to bring their deficits below the eurozone ceiling of 3% of GDP.

For the past three years, macroeconomic policy in the eurozone has been run on sadomasochistic principles: that only regular doses of pain will ensure countries stick to strict reform programmes.

The upshot of this policy is clear for all to see. Businesses that are starved of credit are mothballing investment and cutting their workforce. Weaker growth means higher-than-expected budget deficits. Permanent austerity has bred social dislocation and political extremism. A different approach is needed to save the eurozone from catastrophe – starting on Thursday.
More here: European Central Bank must heed eurozone warning signs
And I'm handing over to my colleague Nick Fletcher…. thanks all GW
1.59pm BST
Photos: Italian vote of confidence debate
A couple of photos from today's confidence debate in the Italian senate, which the new government won confortably (see 1.26pm)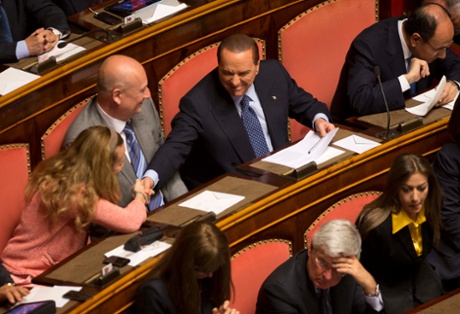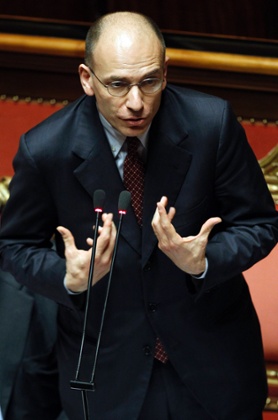 During the debate, Silvio Berlusconi warned that his party could walk away from the coalition unless prime minister Letta yields to their demands for tax cuts, and slows its austerity programme.
Reuters has the details:
In a sign of the intense pressure he will face, four-times Prime Minister Silvio Berlusconi threatened to pull his centre-right People of Freedom party out of the coalition if it does not abolish an unpopular housing tax.

Berlusconi, who is not in cabinet but is playing a decisive role behind the scenes, added that the government must re-negotiate EU deficit commitments, echoing similar comments made earlier by two of Letta's own ministers.

But Foreign Minister Emma Bonino, a former European commissioner, responded that Italy cannot alter its targets, a view repeated by a spokesman for the European Commission in Brussels. "The targets, the objectives remain those that have been agreed," Commission spokesman Simon O'Connor said.

Speaking in the Senate before the confidence vote, Letta argued that Italy's need to ease austerity during the economic slump was shared by many European countries. "What is happening in Italy is happening all over Europe," Letta said. "Either there is a common European destiny or each country will eventually decline on its own."
1.26pm BST
Italian PM wins second vote of confidence
Breaking news from Italy — Enrico Letta has romped to victory in his second confidence vote, in the upper house of the Italian parliament.
A total of 233 Senators backed Letta's govenrment, with 59 voting against. There were 18 abstentions.
Now the new Italian PM faces his third test — meeting Angela Merkel in Berlin tonight.
Letta has been guiding expectations downwards….
Updated at 1.27pm BST
1.20pm BST
Rate (cut) expectations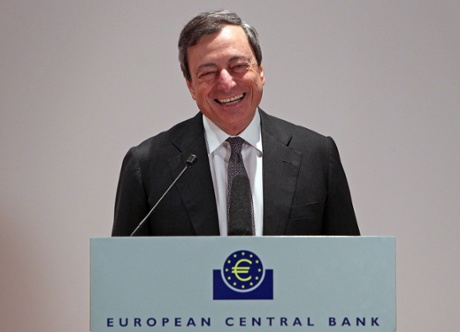 Several City analysts and economists reckon the European Central Bank will bow to pressure this Thursday and cut interest rates by 0.25%, from 0.75% at present.
There's not much confidence that merely trimming borrowing costs will do much good, though. Perhaps Mario Draghi will produce something more surprising?
Richard Driver, currency analyst at Caxton FX explains:
This morning's weak eurozone growth and unemployment figures only pile further pressure on the ECB to cut interest rates.

Other than Germany's phobia of low interest rates, there really is nothing stopping the ECB and with this morning's eurozone inflation data coming in so weak, the ground has probably never been more fertile for a rate cut.

Whether or not an interest rate cut will make any material difference in terms of economic growth is another matter but the ECB have nothing to lose by trying now, and we think they will.

The ECB runs the risk of diminishing its own credibility if it continues to ignore the deteriorating eurozone growth profile.

The new Italian PM's pledge to fight austerity could help usher in a new approach to the balance between debt reduction and growth-promotion in the eurozone – something clearly needs to change.
Kit Juckes of Société Générale reckons the case for easier monetary easing is "plain for all to see", with unemployment up, inflation down, and credit being squeezed. But he suggests that a scheme to help small firms borrow would be more valuable. Something similar to the UK's funding for lending scheme:
Kit writes:
The case for a rate cut in Europe is two-fold. Firstly, as my colleague Adam Kurpiel argued in last week's Fixed Income Weekly, a rate cut would probably help slow the pace at which LTROs are being repaid, and therefore reverse the apparent unwinding of QE that is happening in the Euro Zone. I don't actually know to what extent a decrease in the excess liquidity in the Euro System affects anything beyond sentiment (mopping up the excess water around an over-filled bath tub isn't the same as emptying the tub!) but sentiment would be affected.

The second reason for acting is rather more banal – they'll cut because it does no harm and at the margin may help, even if only a little. Mr Draghi is not above doing things to help sentiment and indeed, at this stage, he must be aware of the risk of disappointment if he doesn't deliver something.

Wider expectations are focused around the idea that the ECB will do something to boost the supply of credit to companies and in particular SMEs. That, in some ways, would follow the UK's FLS scheme.
Brenda Kelly, senior market strategist at IG, confirms that recent poor data is actually cheering the City:
Investors are choosing to rely on optimism that the US Federal Reserve will leave its current stimulus in place and that the European Central Bank will look to cut its key lending rate.

Some economists are even calling for a 0.5% rate cut from ECB president Mario Draghi on Thursday in light of the evident decline in the German economy.

Setting aside the dearth of positive effects a rate cut might actually bring, one could question the wisdom of such an extreme rate reduction as it would leave the ECB with even fewer stimuli in its already depleted arsenal.
12.32pm BST
Gloomy data doesn't scare the City
The financial markets are unphased by today's record unemployment rate in the eurozone (see 10.00am onwards) and surprise drop in euro-area inflation (see 10.34am)
European stock markets are pretty flat, and the euro has only inched a little lower.
City traders are shrugging off bad news on the expectation that central banks will continue to provide fresh stimulus measures to keep the show on the road. That won't rule out isolated crises (such as Cyprus) or the sudden slump in the gold price this month, but should prevent a rout. Despite the troubles in the real economy. Or so the theory goes.
Sebastien Galy of Société Générale fears that Europe is heading for rapid "Japanification" – a sustained period of little growth and low inflation.
He writes:
We are not heading for a Lehman like moment of global deleveraging, but a series of bone jarring thuds (local bubbles) along an otherwise beautiful scenic road.

It is the same feeling you get when visiting the wildlife reserve somewhere in central africa. The beautiful ride leaves you happy you didn't fall into any sinkhole, happy the lion no one told you about was busy on a gazelle and you didn't get caught on the way back by a friendly act of spontaneous local taxation on the road back. Otherwise it was a wonderful trip.
But the tourists may be jittery (to extend the safari analogy). A Reuters poll this lunchtime found that investors have moved more assets into cash, cutting their exposure to shares (as a percentage of total wealth) to the lowest level since 2007. Perhaps they can hear that lion roaring….
Updated at 12.38pm BST
11.40am BST
Cyprus bailout vote could be tight
Today's vote in the Cyprus parliament over its international loan deal is likely to be rather close, but most analysts reckon the Nicosia government will squeeze home.
The vote is constitutionally required before Cyprus can accept the terms of its bailout, and receive the first tranche of aid. Without that loan, Cyprus risks running out of money fast.
The complications arise because prime minister Nicos Anastasiades's Disy party only holds 20 seats in the 56-seat parliament. His coalition partner, Diko, holds another 8 — and has said it will reluctantly back the deal as "there's no other choice".
That still leaves Anastasiades short of one vote for an actual majority.
Three opposition parties with a total of 25 MPs have vowed to vote against the proposal, as has one independent MP.
The two remaining MPs both represent the the European party, which appears to be taking a balanced approach to the issue. Cyprus News Agency reports that one will vote against the loan agreement and the other will support it.
That would mean a 29-27 win for Anastasiades.
The debate is due to begin at 3pm local time (1pm BST), with a vote at 7pm local time (5pm BST).
Government spokesman Christos Stylianides warned ahead of the vote that it would be a disaster of Cyprus were to reject the deal at this late stage.
We have had enough of delusions. We don't have another choice.
(more details on the voting intentions here on BusinessWeek)
Updated at 2.00pm BST
11.15am BST
Greek retail sales tumble again
We're overwhelmed by disappointing economic news today.
Retail sales in Greece have declined by 14.4% year-on-year in February – the only relief is that it's slightly less severe than January's 16.8% slump.
11.01am BST
Analyst Cormac Leech points out that Germany's insistance on keeping inflation under control risks rebounding on them:
Yesterday, German inflation data showed that the cost of living actually fell last month, by 0.5% month-on-month.
10.47am BST
Record jobless – early reaction
Here's some early reaction to today's eurozone unemployment figures, and inflation data, from City analysts and commentators:
10.34am BST
Eurozone inflation slides — interest rate cut next?
Eurostat also reported this morning that inflation across the Eurozone has fallen to just 1.2% in April. That's a sharp fall on March's 1.7%, and a much smaller rise in the cost of living than analysts had expected.
That makes it more likely that the European Central Bank will bow to pressure and cut interest rates at its next monthly meeting on Thursday.
10.28am BST
Young people (once again) suffer
The figures for youth unemployment in Europe are so depressing and alarming, and part of a pattern we've been seeing for too many months.
Nearly one in four young people in the eurozone are out of work – and more than half in Spain.
The youth unemployment rate in the European Union rose to 23.5% in March (up from 22.6% a year ago), and 24.0% in the euro area (up from 22.5%).
And the periphery of Southern Europe continues to suffer the most, reinforcing all the fears of a growing lost generation.
The highest youth jobless rates were recorded in Spain (55.9%), Italy (38.4%) and Portugal (38.3%), and the lowest in Germany and Austria (both 7.6%).
10.18am BST
Unemployment across the EU has been rising steadily for the last five years, as this graph from Eurostat today shows: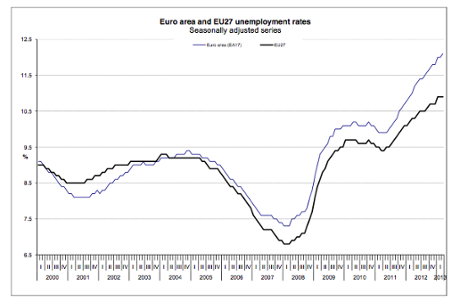 10.14am BST
See the data yourself
10.12am BST
More details of today's jobless data.
Eurozone:
Unemployment rate in the euro area rose to a new record of 12.1% in March, up from 12.0% in February
There are now 19.211m people unemployed across the euro area, an increase of 1.723m in the last 12 months.
European Union
Unemployment rate in the EU was stable at 10.9% in March.
There are now 26.521m people unemployed across the euro area, an increase of 1.814m in the last 12 months.
Countries with the highest jobless rates:
Greece: 27.2% (in January)
Spain: 26.2%
Portugal: 17.5%
Countries with the lowest jobless rates
Austria: 4.7%
Germany: 5.4%
Luxembourg: 5.7%
Update
As a clarification on the German figure: Eurostat says it uses the trend component for Germany "instead of the more volatile seasonally adjusted
data." Hence the figure of 5.4% above (which is for March) does not tally with the 6.9% jobless rate quoted below which is (a) for April and ( b) seasonally adjusted.
Updated at 3.13pm BST
10.00am BST
Eurozone unemployment data released
Eurozone unemployment has, as we feared, hit a new record high of 12.1%.
More to follow.
Updated at 10.01am BST
9.59am BST
Is Abenomics having an impact?
There are encouraging signs from Japan today that its massive monetary stimulus package is having an effect.
Amid a glut of economic data overnight, Japanese household spending rose by 5.2% in March — the fastest monthly rise in nine years.
That suggests consumers are more confident about economic prospects (or deciding that it's better to spend than safe as their central bank battles with deflation).
Japan's jobless rate also dropped, to 4.1%, while manufacturing output rose by its fastest pace in a year in April.
There are also reasons to be cautious — retail sales, for example, were weaker than expected with a 0.3% year-on-year fall.
But the talk in Toyko was the Abenomics — the prime minister's new programme to end stagnation — is working.
Yoshiki Shinke, senior economist, Dai-Ichi Life Research Institute, said:
I expect the first quarter gross domestic product growth to exceed an annualised 2 percent, and if the corporate sector catches up with households, the pace of growth could accelerate…

Recovery in exports has been slow and so has industrial output, but as a weak yen is expected to impact shipments from now on, exports and factory output will pick up in coming months.
9.40am BST
Spanish recession to continue
Looking back at Spain's ongoing recession (see 8.02am onwards), and economists fear that the contraction will be repeated through the year.
Silvio Peruzzo of Nomura doesn't expect to see growth until "some time next year", adding"
We recognize the reforms of the government have been significant, but the problem is the starting position of the Spanish economy was much worse than any other European economies and adjusting in this environment is a lengthy process.
And the latest IMF forecast is for a 1.6% contraction in Spain this year.
However, Reuters flags up that finance minister Luis de Guindos struck an upbeat tone on Spanish radio:
All the indicators which look forward in Spain point to recovery, and a much better economy than one year ago.
Is he right? Well, trade data today showed that Spain's current account deficit came in at €1.3bn in February, down from €5.88bn. Exports rose 4.4% in the month, while imports shrank by 8.2%.
9.13am BST
Italian unemployment rate sticks at 11.5%
Italy's jobless data, just released, is better than expected – but still shows a country struggling with a severe youth unemployment problem.
The overall Italian unemployment rate was recorded at 11.5% in March, in line with February (which was revised down from 11.6%).
The jobless rate among under-25s, though, rose to 38.4% from 37.8%.
The data also confirmed that Italy faces a major problem getting people into the jobs market at all — its employment rate was just 56.3% (down 0.1 percentage point).
Updated at 9.14am BST
9.02am BST
Germany's jobless total has risen by 4,000 people in April March, on a sasonally adjusted basis, worse than the 2,000 rise analysts had expected.
That leaves the German jobless rate at 6.9%, on a seasonally adjusted basis.
Updated at 9.07am BST
8.54am BST
Interesting… one of Enrico Letta's new ministers has proposed changing the terms of Europe's stability and growth pact.
Flavio Zanonato told La Repubblica that Italy wants governments to be given more flexibility on their deficit targets.He suggested that 'investment spending' — money spend on structural projects that would stimuluate long-term growth — should be excluded from the targets.
Reuters has the details:
Italy's new government wants to renegotiate the pact of stability with the European Union, the industry minister said in an interview on Tuesday.

Flavio Zanonato said Italy needed to pursue a credible economic policy to maintain its reputation in Europe and keep the spread between Italian and German bond yields low.

"But we are also interested in renegotiating with the union the pact of stability," he told La Repubblica newspaper.

Zanonato said other countries such as France were calling for similar actions. "In particular it should be possible to exclude from the pact investment spending," he said.
The stability and growth pact is notorious for being loosly applied in the early days of the eurozone (whem both France and Germany breached its deficit limits without penalty) only to now be used to force struggling peripheral countries to cut their borrowing levels….
8.38am BST
News of the deepening Spanish recession comes four days after the country's unemployment total hit a new record high of 27%. That shocking total (more details here) is one reason that today's eurozone-wide jobless rate is expected to rise again.
Spain already appears to be on track to miss its deficit reduction targets for this year — and there are signs this morning that the government may be bowing to pressure to stimulate the economy:
8.02am BST
Spanish recession continues
As feared, Spain's economy has contracted by 0.5% for the seventh quarter in a row.
Data just released confirmed analyst forecasts, with Spanish GDP now 2% smaller than a year ago as the country's austerity programme — and the wider eurozone recession — continue to bite.
7.35am BST
Eurozone jobless rate expected to hit new record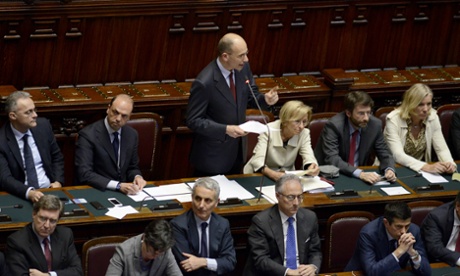 Good morning, and welcome to our rolling coverage of the latest events in the eurozone crisis and across the global economy.
It could be another morning of bad economic news in Europe, as the ongoing recession hits firms and forces more people out of work.
The latest eurozone unemployment data, due at 10am BST, is expected to show the region's jobless rate has risen to a new record high of 12.1% in March (from 12% last month).
Italy's unemployment rate is also forecast to increase, showing the challenges facing its new government as it strives to drag the country back to growth.
And in Spain, new GDP data will doubtless confirm that the country's economy contracted again in the first three months of 2013 (economists expect a fall of 0.5%).
As Michael Hewson of CMC Markets puts it this morning:
The Spanish economy continues to buckle under record high unemployment of 27% and rapidly declining house price values.

With ratings agency Standard and Poor's predicting that property prices could fall another 13% by year end the prognosis looks grim not only in Spain but for the rest of Europe as well.
A grim tale indeed, and one which will set the scene for a meeting tonight between the new Italian prime minister, Enrico Letta, and German chancellor Angela Merkel.
Having won hist first confidence vote last night (see Monday's blog), Letta faces a second one in the Italian Senate today. But visit to Berlin this evening will could be more exciting, following his pledge to spare Italy from 'fiscal consolidation alone'.
There could also be drama in Cyprus today, as its parliament votes on the terms of the country's bailout deal. The plan is expected to be passed with a narrow majority, but there could be fiery criticism of the way the deal was (mis)-handled.
I'll be following all the events through the day.
Updated at 7.52am BST
guardian.co.uk © Guardian News & Media Limited 2010
Published via the Guardian News Feed plugin for WordPress.