Spain cuts growth forecasts, delays deficit target. US GDP grows by annualized 2.5% in first quarter. Italy's borrowing costs fall to record low. Worst of crisis is over, says ECB's Provopoulos. US consumer sentiment index revised higher in April…
---
This article titled "US economy grows less than expected, while Spain cuts forecasts – as it happened" was written by Nick Fletcher, for theguardian.com on Friday 26th April 2013 07.38 UTC
5.18pm BST
European markets edge lower after positive week
After a fairly positive week – based mostly on the hope of an ECB rate cut next week – markets have paused for breath. Spain's delay of its deficit target and slight worse than expected US GDP figures gave some investors the excuse to take a bit of profit:
• The FTSE 100 finished down 16.17 points or 0.25% at 6426.42
• Germany's Dax was down 0.23%
• France's Cac closed 0.79% lower
• Italy's FTSE MIB ended down 0.51%
• Spain's Ibex dropped 0.81%
The Dow Jones Industrial Average has dipped between negative and positive but is currently up just 0.02%.
And with that it's time to close the blog for the week. Thanks for all the comments, and we'll be back again on Monday.
5.10pm BST
IMF welcomes Spanish announcement
Praise for Spain from the IMF too. Managing director Christine Lagarde said:
I strongly support the Spanish government's objectives of restoring a sound fiscal position while securing a recovery and creating jobs. Today's announcement to pursue a more gradual consolidation path is a welcome step toward meeting these goals, building on major reforms and structural fiscal improvements last year.

We are looking forward to discussing the measures underpinning the new strategy in the forthcoming …consultation mission to Spain, scheduled for early June.
4.14pm BST
Olli Rehn, vice president of the European Commission has started a new blog, and observers believe the first post could reflect a new mood:
4.06pm BST
Greece prepares to vote on controversial reforms
Greece's parliament is preparing to vote this weekend on a controversial multi-bill of internationally mandated reforms. Helena Smith writes:
The bill outlining the dismissal of 15,000 civil servants from the public sector and a host of other "prior actions" Athens' ruling coalition has pledged to enact in exchange for rescue funds worth €8.8bn has just been presented to parliament.

But not without a fight. Protesting trade unionists representing the public and private sector have been out in force today and more demonstrations are planned when the bill is put to vote in the 300-seat House late on Sunday.

The firing of some 4,000 civil servants this year and around 11,000 next has been met with fierce opposition at a time when unemployment rates in Greece are nudging 28 % – the highest in the euro zone.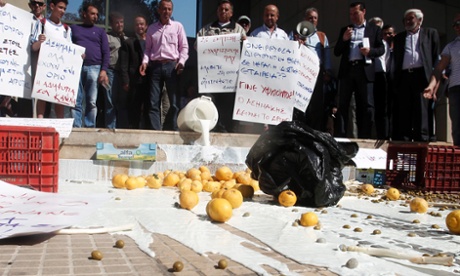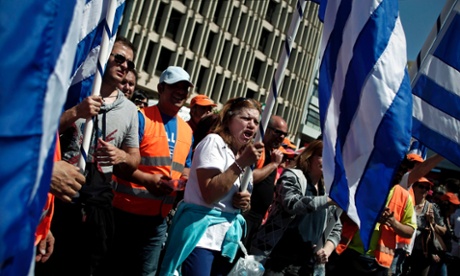 Helena adds:
But prime minister Antonis Samaras insists the Greek economy is beginning to recover. Today, he highlighted that optimism by hailing the decision of the Finnish mobile operator, Nokia, to expand in the country as proof that it was finally turning a corner. Many beg to differ, however, as the fiercely anti-austerity Syriza's sudden bounce in the polls would also prove [see earlier].

With spirits riding high, the prime minister has decided to visit China in a bid to lure investors. Aides confirmed he would make the trip, his first to the Far East since assuming office, in mid-May. A huge drive is currently underway in China to boost tourism to "glorious Greece."
3.53pm BST
European Commission welcomes Spanish deficit target delay
The European Commission has welcomed Spain's announcement of a delay to the country meeting its deficit target. In a statement the EC said:
Regarding the fiscal targets, the postponement of the correction of the excessive deficit (to below 3% of GDP) to 2016 is consistent with the current technical analysis by the Commission services of what would be a balanced – but still ambitious – fiscal consolidation path, given the difficult economic environment.

It is crucial that the fiscal path in the Stability Programme be based on prudent macroeconomic assumptions and a sufficient amount of high-quality, structural measures. Our assessment in this regard will be also made public on 29 May.
3.01pm BST
US consumer sentiment better than expected in April
Despite US goverment spending cuts and tax rises, a survey of consumer sentiment has come in stronger than expected.
The Thomson Reuters/University of Michigan index rose to 76.4 in April, up from a preliminary reading for the month of 72.3 and higher than the forecast 73.2.
The news has helped lift US shares which had been struggling in the wake of the slightly worse than forecast first quarter GDP figures.
So the Dow Jones Industrial Average is currently around 25 points higher having initially edged lower.
2.19pm BST
French socialists accuse Merkel of causing crisis
Here's more on the blast aimed at Angela Merkel by France's governming socialist party. Europe editor Ian Traynor writes:
French president Francois Hollande's governing socialists have delivered a blistering assault on Germany's chancellor Angela Merkel, accusing her of causing the single currency crisis that has been tearing Europe apart for more than three years, of acting selfishly and intransigently in her own political and German national interest, and demanding a "showdown" with the "chancellor of austerity."

In a draft paper on party policy on Europe ahead of a conference in June, the socialists contend that Europe is being run by a rightwing Anglo-German cabal dominated by liberal free trade interests with the rest of the world and austerity within the EU.

They call into question the Franco-German alliance that has been at the heart of the EU for as long as it has existed and argue that France alone of the big EU countries has a government that is genuinely pro-European.

Merkel, as well as Hollande's predecessor, Nicolas Sarkozy, and David Cameron come in for stinging attack. Merkel and Sarkozy, the draft declares, managed to turn a small crisis that started in Greece more than three years ago into a mega-European disaster.

The 21-page draft leaked to le Monde which said it had the tacit support of Hollande's government has been organized by Jean-Christophe Cambadélis, a party vice-president.

"The [EU] community project is now scarred by an alliance of convenience between the Thatcherite accents of the current British Prime Minister – who sees Europe only as a la carte and about rebates – and the selfish intransigence of Chancellor Merkel who thinks of nothing else but the savings of depositors in Germany, the trade balance recorded in Berlin and her electoral future," the paper said.

"Today France is alone among the big countries of the EU in having a government which is genuinely European."
2.09pm BST
Syriza party in lead in new Greek poll
Over to Greece where a poll released today shows the fiercely anti-austerity far left Syriza party in the lead as speculation also grows of an imminent government reshuffle. Helena Smith writes:
A survey conducted by the polling firm, VPRC, shows Syriza recapturing its lead with 29.5% against 27% for the centre-right New Democracy party, the predominant force in the governing coalition. Some 76% of respondents said they believed the country was headed in the wrong direction even if a majority continued to believe that Antonis Samaras was more suitable as prime minister – he received 16.6% compared to 9.1% who backed Syriza leader Alexis Tsipras in the role. But 60.3% thought "no politician" was suited for leadership.

In a further sign of the malaise gripping a nation now trapped in a sixth straight year of recession, 77% of those polled voiced support for the "immediate abolishment" of the EU-IMF mandated reforms that Greece has been obliged to enforce in return for aid, saying the debt-choked country should instead apply a "plan of economic and productive reconstruction."

Tsipras, who is currently visiting Portugal, has been busy blasting Berlin's fixation with austerity. Earlier today, he insisted that no country in southern Europe would be able to exit the crisis if it continues to enforce such policies. "We have to be aware that the future of Europe does not lie in the divide between the north and the south," he said calling for enhanced dialogue between the countries of the south. "[The future] does not lie with a German Europe of surpluses in the north and social disintegration in the south."

The survey was released amid mounting speculation that Samaras will soon reshuffle his cabinet after inter-governmental disagreement, and an embarrassing u-turn, over a reform that was to be part of a bill Athens must pass to secure further aid from creditors.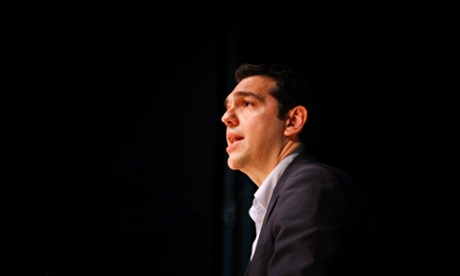 Updated at 2.12pm BST
2.04pm BST
Spain softens its commitment to austerity
Back to Spain, and here is our correspondent Giles Tremlett's full take on the day's developments:
Spain has dramatically softened it commitment to austerity, changing this year's budget deficit target from 4.5% to 6.3% – a reduction of just 0.8 percent of GDP over the year.

The softening, however, comes accompanied with dismal predictions for Spain's biggest social problem, unemployment.

The government's own predictions, presented today by ministers but without the presence of prime minister Mariano Rajoy, show unemployment at 27% this year and sticking around 25% until 2016.
The government has put back the target of reaching the Brussels-mandated deficit level of below three percent until 2016, a move that will see public debt grow to 100 percent of GDP.

Indirect and corporate taxes will be boosted, but tax minister Cristobal Montoro refused to say exactly which indirect taxes would be hit – bar ruling out petrol, VAT and income tax.

"Spain has, to all intents and purposes, thrown in the towel on fiscal austerity. The scale of the government's revisions to the country's GDP and budget deficit targets underscore the extent to which front-loaded fiscal retrenchment has exacerbated Spain's economic downturn and become self-defeating," says Nicholas Spiro of Spiro Sovereign Strategy, who warns that investors are being too kind to Spain by paying ever-lower yield prices for its bonds.

"This is a belated acknowledgement on the part of the Rajoy government that its macroeconomic policies have failed."

Growth predictions remain modest, with Spain to stay in recession this year as its economy shrinks 1.3%. Growth will not rise above one percent, the level at which many analysts see net job growth, until 2016.
These growth figures depend entirely on exports, with internal consumption also not increasing until 2016.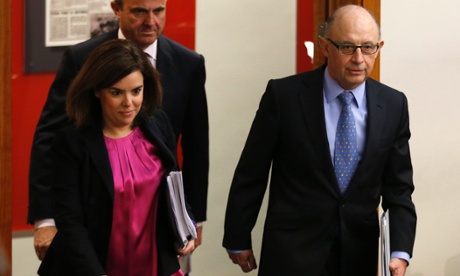 1.47pm BST
US government spending falls again
A continuing fall in government spending – more than 4% lower after falling by 7% in the fourth quarter – was one downward pressure on the GDP figure. Annalisa Piazza at Newedge Strategy said:
The softer than expected outcome is mainly due to the downward surprise in government spending. That said, the overall picture of moderate growth remains intact. Looking ahead, risks for growth are skewed to the downside in the second quarter as timely economic indicators point downwards.

Such a scenario fully justifies a "wait and see" approach at next week's Federal Reserve meeting as policymakers are expected to wait for more evidence before making any decision on future policy steps. The ongoing bn monthly asset purchase is expected to be confirmed next Wednesday.
Rob Carnell at ING said:
Trying to get a handle on what is going on under the bonnet of the US economy is a little tricky with figures as erratic as these, but this may be surmised from the final sales figure to domestic purchasers, which strips away the impact of volatile inventories and exports. This showed a 1.9% gain in the first quarter of 2013, up from 1.5% in the final quarter of 2012, and probably as good an indication of the true state of the underlying economy as there is.

This is OK, but not fantastic. Moreover, with the data softening sharply as of March, and likely to continue weak through April and May, there is a good chance that second quarter of 2013 is substantially weaker even than this latest number – a GDP figure much closer to 1.0% seems possible, and at those low levels, a rogue negative quarter can never be ruled out.

As for the Fed, we doubt they will pay much attention to this essentially historical data. Next week's meeting will have to acknowledge the softening of recent data. These GDP numbers confirm that trend. All talk of imminent QE downscaling can be forgotten for a while. But growth will likely return later in the year, at which point, QE chatter and Treasury yields will start to nose up again. This is going to be a choppy year for both growth and for markets.
Updated at 1.54pm BST
1.42pm BST
US stock market futures fall after GDP numbers
US investors appear not to like the GDP figures. Dominic Rushe in New York writes:
The below forecast figures are another sign that the economic recovery may be stalling.

US stock market futures are all falling before the markets open. Economists polled by MarketWatch had expected first-quarter annualized growth of 3.2%, up from just 0.4% in the final three months of 2012. The figures come amid signs of a slowdown in the wider economy. The US added just 88,000 new jobs in March, less than half the rate it needs to cut the unemployment rate. The next set of monthly job figures are due this time next Friday.

This is the government economists' first take on how the economy grew in the first quarter and is subject to revision.
1.34pm BST
US GDP grows by less than expected 2.5%
Breaking news
The US economy grew by less than expected in the first quarter, although it was much stronger than at the end of 2012.
Official figures showed GDP growing by an annualised 2.5% compared to forecasts of a 3% rise. This was up from 0.4% in the final quarter of last year.
Despite the growth, the fact that it missed expectations could raise fears about the impact of goverment spending cuts and higher taxes.
But it is also likely to encourage the belief that the US Federal Reserve will continue its programme to boost the economy.
Updated at 3.27pm BST
1.22pm BST
Spain's economy minister Luis de Guindos says the new deficit cutting plan was agreed with Europe.
1.09pm BST
Spanish prime minister Mariano Rajoy is apparently not at the announcement of the economic reforms, which has caused some comment:
Here's a live link (in Spanish).
Updated at 2.50pm BST
1.06pm BST
Spain slashes growth forecasts
Spain has revised down its growth forecast for 2013 from a decline of 0.5% to a 1.3% fall. It is now predicting growth of 0.5% in 2014.
The government has also revised down its deficit forecast for 2013 to 6.3% of GDP. It predicts the public deficit will be 5.5% of GDP in 2014, 4.1% the following year and 2.7% in 2016.
That means Spain has delayed meeting the EU budget deficit target by two years to 2016.
The revisions, although harsh on the growth front, seem to be much as expected.
After Thursday's record unemployment rate of 27.2% in the first quarter, the rate is expected to be 27.1% for 2013, 26.7% in 2014 and 25.8% in 2015.
Meanwhile deputy prime minister Soraya Saenz de Santamaria said there was no need for major new reforms or taxes, and the government would try to cut taxes in the future.
Updated at 1.10pm BST
11.50am BST
Hollande's party blasts Merkel, says Le Monde
Angela Merkel has come under renewed attack from France's socialists, according to a report in Le Monde.
Our Europe editor Ian Traynor tweets:
11.09am BST
Eleven banks will repay €2.276bn of money borrowed under the three year LTRO programme on 2 May, the ECB has announced.
This follows an average €10.85bn repaid over the past two weeks. Annalisa Piazza at Newedge Strategy said:
The outcome is softer than anticipated and it is well below the average of the past couple of weeks. Today's data, coupled with the expected ECB refi rates cut next week, should reduce the volatility of short-term rates going forward.
Updated at 11.13am BST
10.58am BST
Merkel did not mean to infringe on ECB's independence, says spokesman
Here's bit of backtracking by the look of it.
According to Reuters a German government spokesman said Chancellor Angela Merkel "in no way intended to infringe on the ECB's independence" with her comments on interest rates.
You may recall she said that if the ECB looked at Germany alone, it would have to raise rates at the moment. Markets have been buoyant in the past few days on hopes the ECB will actually cut rates next week.
The spokesman also said the German government was confident the constitutional court would uphold the legality of the eurozone bailout measures.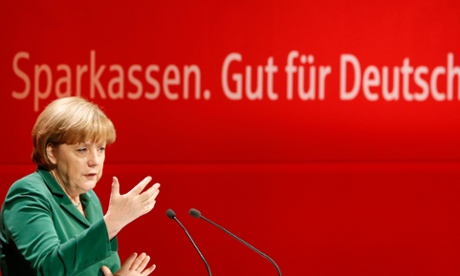 Updated at 11.03am BST
10.33am BST
Worst of crisis is over, says ECB's Provopoulos
The worst of the eurozone crisis is behind us and the European Central Bank may never have to use its Outright Monetary Transactions (OMT) bond buying programme.
That is the (over-optimistic?) view of ECB council member and head of the Greek central bank George Provopoulos. In an interview with Bloomberg in Athens yesterday he said:
Given that in the last few months we have had a kind of stabilization, normalization, maybe it will never be used. OMT has helped enormously. It is a good thing that we have decided to go ahead with that, just in case it would be needed.

I think the worst of the debt crisis is behind us.This does not mean that all weaknesses have been dealt with or that the road ahead will be without bumps. But I think the worst is over.
Interesting, given Germany's apparent antipathy towards OMT and its concerns about the ECB's actions.
10.15am BST
Italian bond auction sees record low yields
Italy's bond auction seems to have gone well, just a couple of days after the country finally began resolving the impasse after its inconclusive elections with the appointment of Enrico Letta as prime minister.
The country sold €8bn of six month treasury bills at a yield of 0.503%, down from 0.831% previously.
This is the lowest rate since the introduction of the euro.
Part of the demand was due to the expectation of an ECB rate cut next week.
Meanwhile Letta has said talks to form a government were encouraging while Silvio Berlusconi's centre right party said there were no real problems.
According to Ansa, the new government could be sworn in over the weekend with a confidence vote to follow on Monday.
Berlusconi however has ruled himself out of being a minister:
Updated at 10.21am BST
10.04am BST
Stock markets slip back
After a recent burst of enthusiasm, largely thanks to the hope of an ECB rate cut next week, investors seem to have turned cautious once more. So markets are slipping back across the board, probably not helped by renewed signs the Germans may be unhappy with the ECB.
• The FTSE 100 is down 34.57 points or 0.54%
• Germany's Dax has dropped 0.68%
• France's Cac is 1.01% lower
• Italy's FTSE MIB is 0.93% down
• Spain's Ibex is off 0.97%
• US futures are showing a 32 point decline on the Dow Jones
9.36am BST
Cyprus bank deposits fall in March
Cyprus bank deposits fell €1.8bn in March, according to figures from the European Central Bank. That of course was the month when the contentious bailout was agreed, with many depositors taking a hefty haircut on their savings.
Martin van Vliet at ING said:
The bank deposit figures for March suggest little contagion from the Cyprus bail-in of uninsured depositors to other Eurozone countries – which will probably cause a sigh of relief in Brussels. In fact, private-sector deposits in most other peripheral Eurozone countries saw further signs of recovery in March. Consumers and firms' deposits at banks in Spain and Portugal rose by 0.9% and 0.6% month on month respectively, while Greek bank deposits edged up by 0.1%.

Cypriot banks further increased their reliance on emergency liquidity assistance or ELA from the national central bank, from €10.2bn in February to €11.4bn at the end of March. That said, bank holidays and capital controls have clearly prevented a more massive capital flight.
Updated at 9.39am BST
9.31am BST
ECB's Asmussen on rate cuts
More on ECB interest rate cuts. In a speech in Frankfurt, bank board member Joerg Asmussen has seemingly again played down the effectiveness of such moves (courtesy Bloomberg):
Ransquawk points out the comments are largely repeating what Asmussen said earlier this week.
Updated at 9.48am BST
9.21am BST
Bundesbank reportedly unhappy at ECB – again
The move by the European Central Bank and its head Mario Draghi to introduce the OMT bond buying programme is one of the drivers of the revival in eurozone sentiment. But there is more evidence that the Bundesbank is not keen. Gary Jenkins at Swordfish Research says:
When Spanish two year bonds hit 7% last summer it appeared that it might be game over for the Eurozone. Or at least Spain would have to restructure its debt or receive assistance on a scale that would have been unprecedented even in European bailout terms. At that moment however the ECB changed from an institution that spoke softly and carried a small stick (that was temporary and limited in time and scale) to one that shouted very loudly and carried a great big stick that it wouldn't hesitate to use to punish anyone with the audacity to short / underweight European government bonds.

There is no doubt that Mr Draghi's intervention was a turning point in the crisis. There have been comments about the readiness of the OMT program but the trend in bond yields for the stressed nations would suggest that the market was not prepared to test Mr Draghi's resolve.

Interesting then to note that the German newspaper Handelsblatt has seemingly got hold of a paper outlining the Bundesbank's position on the OMT which has been prepared for the German constitutional court.

The Bundesbank rejects the idea of sovereign bond purchases in strong terms and indeed questions the role of the central bank in deciding whether the currency is irreversible. It will be interesting to see whether this has any impact on the market today. Whilst the lack of support from the German central bank is important it is hardly new news; Jens Weidmann and others have been fairly vocal about their disapproval of the ECB's actions throughout much of Mr Draghi's tenure as president.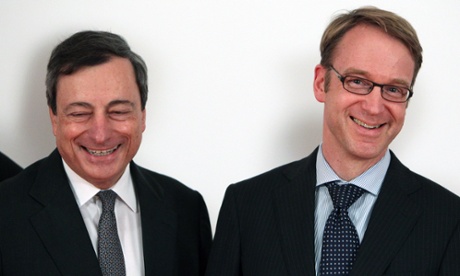 8.49am BST
Agenda
Here's a look at some of the day's events (all times BST):
 8:15 ECB's Asmussen Speaks in Frankfurt
10:00 Italy to Sell €8bn 184-Day Bills
11:00 ECB Announces 3-Year LTRO Repayment
Midday Spain unveils new reform programme
13:30 US GDP
13:30 US Personal Consumption
14:30 ECB Governing Council Member Nowotny speaks in Prague
14:55 University of Michigan confidence index
Updated at 9.15am BST
8.37am BST
Spanish reforms and US GDP in the spotlight
Good morning and welcome to our rolling coverage of the eurozone crisis and other key events in the global economy.
All week markets have been soaring as investors became increasingly convinced central banks will take more measures to stimulate a sluggish economy.
In particular, poor data from Germany encouraged the believe the European Central Bank could cut rates as early as next week. However German chancellor Angela Merkel threw a slight spanner in the works by suggesting that the ECB should raise rates if it was to judge solely by Germany.
Meanwhile the Bank of Japan decided early this morning to keep monetary policy unchanged, and did not unveil any further measures. It said Japanese inflation was likely to rise to around 2% during the next three years, but it said it would continue monetary easing as long as necessary to meet that target.
On the agenda today are new economic reforms from Spain, due to be unveiled at midday.
Prime minister Mariano Rajoy is trying to tread a fine line between austerity and growth – as is the rest of the eurozone although much of the emphasis is still on the former. According to Reuters a Spanish goverment source said on Thursday:
There will be no relaxing of the austerity drive because we believe in this policy. Having said that, with Europe in recession, it would be absurd not to adjust the deficit-cutting path.
Proposals are expected to include a reform of the public pension system to increase the retirement age, a review of unemployment benefits and steps to boost small business growth.
Also coming up are US GDP figures. Michael Hewson, senior market analyst at CMC Markets, said:
Today's main event remains US first quarter GDP where expectations seem somewhat optimistic with expectations of a rise of 3.1%, up from a very disappointing 0.4% at the end of last year.

This seems excessively optimistic given that we have seen payroll tax hikes and spending cuts kick in at the beginning of the year as well as a host of disappointing economic data for March.
Updated at 8.51am BST
guardian.co.uk © Guardian News & Media Limited 2010
Published via the Guardian News Feed plugin for WordPress.