The UK Office for National Statistics reports 0.7% sales fall despite a near 1% rise in food sales. Sales volumes declined as department stores and homeware retailers suffered from March snow. The decline was smaller than the -0.8% forecast…
---
This article titled "Retail sales hit by March snow" was written by Phillip Inman, economics correspondent, for theguardian.com on Thursday 18th April 2013 10.15 UTC
Retail sales fell by more than expected in March after heavy snowfall deterred shoppers from venturing out to buy clothes and homeware.
According to official figures, sales volumes declined by 0.7% last month despite a near 1% rise in food sales as department stores and homeware retailers suffered from the cold weather.
James Knightley, UK economist at ING bank, said although sales were weaker than expected, they offered "a little more reassurance" that the UK would avoid falling into its third recession since the financial crisis began.
"Nonetheless, yesterday's employment numbers were not great and softer global figures still lead us to believe that the Bank of England will come in with more stimulus, potentially as soon as the May meeting when they produce new economic forecasts," he said.
First-quarter growth figures for the UK are released in a week, and economists remain split on whether they will show an unprecedented triple-dip downturn.
Chris Williamson, chief economist at Markit, the financial data provider, said higher retail sales figures at the end of last year to February showed the economy had regained some of its momentum, but, like Knightley, he warned the bounce could be short-lived.
"The upward trend in sales has followed a steady improvement in consumer confidence since late last year. Surveys of households show confidence had picked up further in March, linked in part to people being busier at work, which both improved job security and raised take-home pay. However, there is a worry that rising unemployment, weak pay growth and high inflation could reverse this trend in coming months," he said.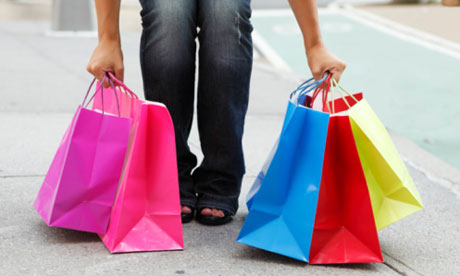 Alan Clarke, UK economist at Scotia Bank, said the retail figures were disappointing and reflected a weakening economy that could still show a triple-dip recession.
"With wage inflation at around 1% and headline inflation at close to 3%, the maths don't add up to much in the way of consumer spending growth – rather the opposite – falling consumer spending by mid-year," he said. "Let's hope the Bank of England's new tactic of targeting business investment works."
Retail sales have proved volatile in recent months, with a 0.7% decline in January, when snow was again a factor, being followed by a 2.1% rise in February.
The Office for National Statistics said the March figures pushed sales over the year into a decline of 0.5%.
Knightley said: "The figure was always going to be weak, with the heavy snowfall in the month, which particularly hurt clothing retailers (with sales down 3.1% month on month), given they had started to stock their spring fashion ranges.
"The ONS reports that it was the coldest March since 1962 with department stores and household goods stores also particularly depressed (down 4% and 6.2% month on month respectively)."
High petrol prices also deterred motorists from filling up their tanks – the ONS figures showed a 1% decline in petrol sales.
The poor figures were rescued only by the consistent rise of food sales, which was repeated in March. Food sales rose 0.9%, the largest gain since July 2011.
Sales of goods over the internet gained momentum, with a 6% rise.
guardian.co.uk © Guardian News & Media Limited 2010
Published via the Guardian News Feed plugin for WordPress.